Maerz takes over rock mechanics and explosives center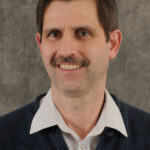 Dr. Norbert Maerz, professor of geological and petroleum engineering at Missouri University of Science and Technology, has been named the director of Missouri S&T's Rock Mechanics and Explosives Research Center. His appointment took effect Monday, May 9.
He takes over for Dr. Stewart Gillies, professor of mining and nuclear engineering at Missouri S&T.
"Dr. Maerz's long-term affiliation with the center makes him the perfect person to take over as its new director," says Dr. Mariesa Crow, vice provost for research at Missouri S&T. "His dedication and experience will keep the center — and Missouri S&T — a leader in the field and position our students at the forefront of new developments for today and tomorrow."
Maerz most recently has been the center's senior investigator and program head of geological engineering.
He joined the Missouri S&T faculty in 1998. From 1995 to 2006, Maerz was the president and general manager of WipWare Inc.; in 1996-97 he was a sessional lecturer at the University of Waterloo in Waterloo, Ontario, Canada; and 1990-97 he was the president of N.H. Geo Consulting Limited.
Maerz has authored or co-authored dozens of articles in refereed journals and presented dozens of papers at refereed conferences.
He is a member of the American Rock Mechanics Association, the Association of Engineering Geologists, the Association of Professional Engineers of Ontario, the International Society for Mechanics, and the Society for Mining, Metallurgy and Exploration.
###