University Innovation Fellows ignite connections at Missouri S&T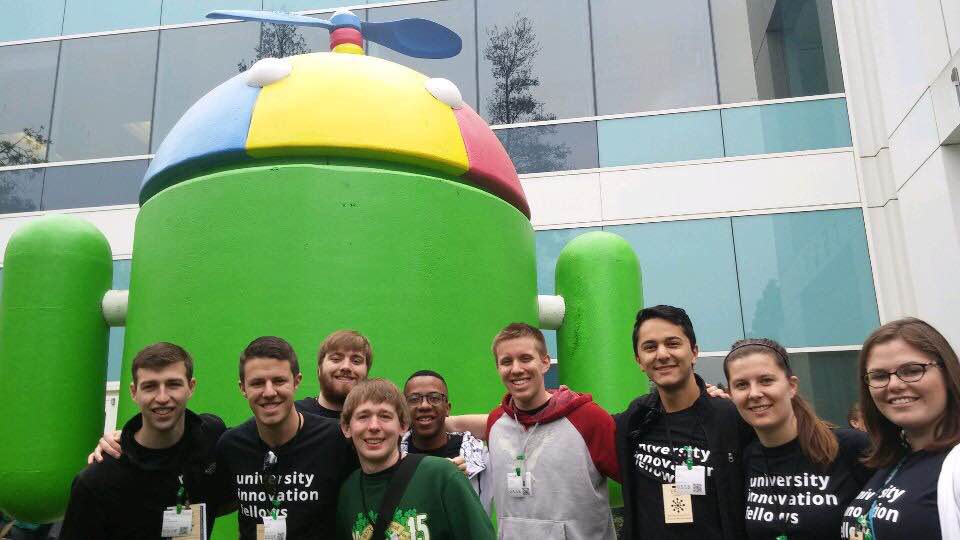 Cori Hatley and Eric Fallon have learned a lot about the many entrepreneurship and innovation opportunities available through Missouri S&T. But they weren't always so knowledgeable.
The two graduating seniors remember their earlier years at Missouri S&T, when they found it challenging to learn about the many innovation opportunities the university offers students. "We're not missing resources," says Hatley, a senior in civil engineering from Fort Campbell, Kentucky. "It's that people are not aware of the resources."
So she and Fallon took an entrepreneurial approach to solving this quandary: They put together a plan and pitched it to investors.
Their plan involves creating a "one-stop" resource for first-year students. In Hatley's words, they wanted to "start making these connections sooner rather than later so students can harness these resources right away."
Their investors were the members of Missouri S&T's Innovation Team, a group of students, faculty and staff that reviews proposals from students, faculty and staff and awards seed funding based on the innovative nature of the proposals. The group operates much like the angel investors on the TV show "Shark Tank," which weighs pitches from would-be inventors and entrepreneurs.
Through this process, Hatley and Fallon were also applying lessons learned as members of the 2015-16 class of University Innovation Fellows at Missouri S&T. The UIF program is a National Science Foundation initiative designed to help college students learn more about entrepreneurship and to bring that innovative spirit to their campuses. "It's designed to train us to be change agents," says Hatley.
This fall, Hatley and Fallon's project, called Ignite Innovation, will introduce incoming freshmen to the entrepreneurship resources available on campus, from design team and undergraduate research opportunities to clubs and coursework focused on innovation.
"We wanted to leave a legacy at S&T after we graduate," says Fallon, a senior in environmental engineering from Wentzville, Missouri. "Teaching future student innovators what we've learned seemed like the perfect way to achieve that."
Two other UIF members – S&T students Connor Wolk and Tyler Jenkins – will take Fallon and Hatley's idea and make it a reality this fall. The UIF students will offer the workshop during Opening Week at Missouri S&T. Incoming first-year students are already signing up for the project, Hatley says.
Fallon and Hatley credit Dr. Bonnie Bachman, a professor of economics and the UIF faculty advisor at S&T, for igniting their interest in entrepreneurship and innovation. Through the efforts of Bachman and John Lovitt, entrepreneur-in-residence at Missouri S&T, the campus received funding last fall to develop new courses designed to stimulate innovation. The grant comes from VentureWell, an organization that funds entrepreneurs as well as universities.