Missouri S&T's Baja car racing team ready to compete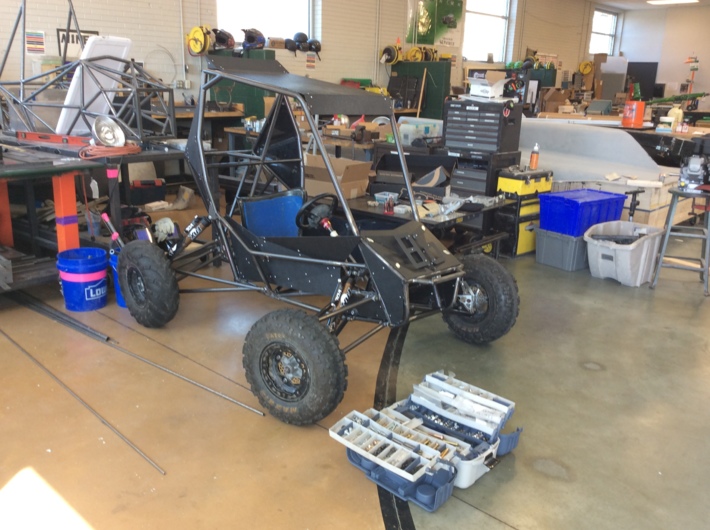 Students from Missouri University of Science and Technology will demonstrate the engineering principles of off-road vehicles by racing a student-designed and -built Baja vehicle as part of the Society of Automotive Engineers (SAE)-International Baja SAE Tennessee.
The event will be held April 14-17 at Tennessee Technological University. Racing will take place at the Hyder-Burks Agricultural Pavilion in Cookeville, Tennessee.
Missouri S&T's Baja SAE Design Team will compete against approximately 100 other collegiate teams from around the world in a series of competitions, comprised of both presentations and races. Each team was tasked with building a vehicle prototype that could theoretically be selected for manufacturing and sold to the public.
Teams will first give a formal design presentation to judges, along with a technical display and cost report. The race portion of the competition is split into five events. The events include a sled pull, and maneuverability, suspension and acceleration tests. The final event is a four-hour endurance race. The course will be riddled with obstacles the vehicles must avoid. Teams will be assessed penalties for infractions like poor or dangerous driving or being a hazard in any way while on the track.
This year, Missouri S&T's vehicle features an outer shell made from water-jet cut ABS (acrylonitrile butadiene styrene) plastic. The car also has a student-made, CNC-machined transmission case, air shocks and a steel chassis. All vehicles at the competition are provided the same engine, an unmodified Briggs & Stratton single-cylinder Intek 20. The car can reach up to 40 miles an hour during the events.