New Politics to perform during St. Pat's celebration at S&T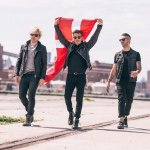 Alternative rock group New Politics will perform in Rolla as a part of Missouri University of Science and Technology's 108th annual St. Pat's celebration. The band will conclude the university's weeklong celebration with a free concert.
The concert and Grateful Board festival will begin with opening bands at approximately noon Saturday, March 19, at the Rolla Band Shell, located at the corner of 9th and Oak streets in downtown Rolla. The Schwag, a Grateful Dead tribute band, will perform as the opening band and Fairway, a St. Louis-based rock group, will perform after them. New Politics is projected to take the stage at approximately 4 p.m. The concert is free and open to the public.
Formed in 2009, the three-piece rock band from Copenhagen, Denmark, has released three studio albums. The group's biggest hits include "Yeah Yeah Yeah," which reached No. 16 in the U.S. alternative rock chart, and the 2013 hit "Harlem."
The performance is part of Missouri S&T's "Best Ever" St. Pat's celebration, organized by the students of the St. Pat's Committee. The campus celebration began in 1908, when a group of Rolla students declared that St. Patrick was the patron saint of engineers. St. Pat's has grown to encompass a full week of events, as well as campus traditions that begin in early March. For more information about the events, visit stpats.mst.edu.