S&T Ballet and Dance Club to perform 'Alice in Wonderland'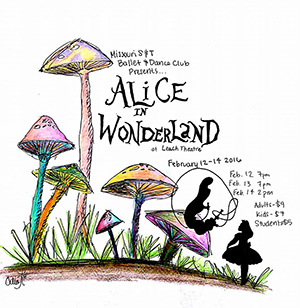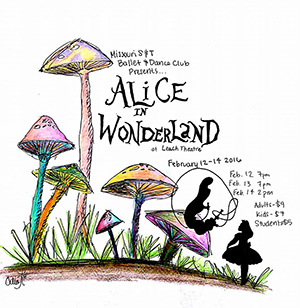 The Missouri University of Science and Technology Ballet and Dance Club will present a unique adaptation of Alice in Wonderland on the S&T campus this weekend.
Performances will be held at 7 p.m. Friday, Feb. 12; Saturday, Feb. 13. A matinee performance will be held at 2 p.m. Sunday, Feb. 14. All performances will take place in Leach Theatre, located in Castleman Hall, 10th and Main streets in Rolla.
Local children who attended a dance camp hosted by the S&T Ballet and Dance Club will perform at 1:30 p.m. before the Feb. 14 performance.
Alice in Wonderland is the theatrical adaptation of Lewis Carroll's novels Alice's Adventures in Wonderland and Through the Looking Glass. The story follows a Victorian-era child named Alice who goes on an adventure after accidentally falling down a rabbit hole into Wonderland.
Tickets are $9 for adults and $7 for youth aged 18 and younger. Tickets are available to Missouri S&T students with a valid ID for $5. Tickets can be purchased 9 a.m. to 4 p.m. Monday through Friday from the Leach Theatre Box Office, located in the vestibule inside the main entrance to Leach Theatre, facing 10th Street. Tickets will also be available for purchase one hour before each show at the box office.
For more information on the Ballet and Dance Club, or on the performance, contact Ashley Parker at mstballet@gmail.com.