Hispanic Film Series starts Jan. 29 at Missouri S&T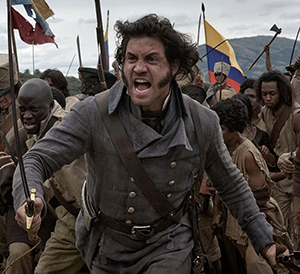 For the second year in a row, the Missouri University of Science and Technology arts, languages, and philosophy department has received a grant to offer a Hispanic Film Series at Missouri S&T. As part of the series, five films will be screened free of charge on Friday nights during the spring semester. All films are in Spanish with English subtitles.
The series kicks off at 7 p.m. Friday, Jan. 29, with a screening of "The Liberator," a historical drama about the life of Simon Bolivar, in Room 103 Engineering Management Building on the Missouri S&T campus. Future films will be screened in Room 104 Physics Building.
"Simon Bolivar is perhaps the best known among the four major figures who played a key role in liberating the Spanish colonies in America from the Spanish Empire, early in the 19th century," says Dr. Jorge Porcel, associate professor of arts, languages, and philosophy at Missouri S&T and organizer of the Hispanic Film Series. "The movie documents Bolivar's pursuit of a Panamerican nation, frustrated by power games, greed, self-serving interests and, ultimately, betrayal."
The second film in the series, "Mr. Kaplan," will show at 7 p.m. Friday, Feb. 19, in Room 104 Physics Building. This comedy deals with the crisis of a 76-year-old man who is dissatisfied with his mediocre life and dreams of doing something that will make his existence more worthwhile.
"He and his friend, a dishonorably discharged ex-cop, engage in capturing and bringing to Israel's justice an ex-Nazi," Porcel says. "The plot develops through many hilarious setbacks they suffer during their 'heroic task.'" This film is a coproduction of Uruguay, Spain and Germany.
The third movie, "After Lucia," will be screened at 7 p.m. Friday, March 11, in Room 104 Physics Building. It is a drama portraying a teenaged girl named Alejandra, who has just lost her mother and moved from Puerto Vallarta to Mexico City.
"Coping with her mother's loss and looking for acceptance within her new social network at school, Alejandra has sex with a classmate, and for that mistake, she will silently suffer bullying at school, until she decides the weight of the abuse is unbearable," Porcel says. After Lucia was produced in Mexico.
"7 Boxes," the fourth movie in the series, will be screened at 7 p.m. Friday, April 8, in Room 104 Physics Building. It tells the story of Victor, a 17-year-old wheelbarrow delivery boy, who is offered a job delivering seven boxes with unknown contents, which puts him in danger.
"This film is a thriller with suspense that will have you gripping your chair," Porcel says. "The movie is interestingly multilingual, a reality that Paraguay has known for centuries since Guarani, an Amerindian language, is as widely used as Spanish in the capital city, Asunción. In addition to Guarani and Spanish, Korean is also spoken in the film. '7 Boxes,' is a surprisingly well-done movie, produced in Paraguay, a country whose film industry is not internationally known. It was declared a film of cultural interest by the National Secretary of Culture of Paraguay."
The series closes with a tender, funny, and bittersweet Mexican comedy called "Paradise." It will be screened at 7 p.m. Friday, April 29, in Room 104 Physics Building. 'Paradise' deals with obesity and the societal pressure to be thin.
"A happy overweight couple, Carmen and Alfredo, have moved out of their cocoon town to Mexico City, because of a job promotion," Porcel says. "At a work reception, Carmen overhears a comment about their weight, and from there they engage in dieting and exercising. In the end it all it all comes down to 'how much does love weigh?' A sensitive, compassionate, and funny treatment of this problem makes the film enjoyable and thought-provoking."
The S&T Hispanic Film Series is presented thanks to the generosity of its sponsors:  Pragda; Spain Arts and Culture; Dr. Steven Roberts, vice provost and dean of the Missouri S&T College of Arts, Sciences, and Business; and Dr. Audra Merfeld-Langston, interim chair of arts, languages, and philosophy.
For more information, contact Porcel at porcelj@mst.edu or call 573-341-4869.