Missouri S&T choirs to present fall concert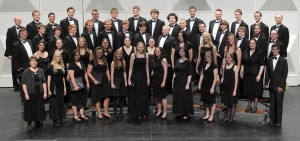 The Missouri University of Science and Technology Chamber, University and Men's choirs will perform in a combined fall concert on the Missouri S&T campus this month.
The concert, titled "Sounds of Thanks and Harvest" will be held at 7:30 p.m. Thursday, Nov. 19, in Leach Theatre of Castleman Hall, located at 10th and Main streets in Rolla.  Lorie Francis, a lecturer in arts, languages, and philosophy at Missouri S&T, will conduct the choirs. The choirs will be accompanied by Kathy Mazzeo, a local pianist.
Tickets are $5 for the general public or free with the donation of a canned good. Tickets are free for S&T students who present a valid campus ID and youth age 18 or younger. All canned goods collected will be donated to the Greater Rolla Area Charitable Enterprise (GRACE).
Tickets can be purchased 9 a.m. to 4 p.m. Monday through Friday in the Leach Theatre Box Office located in the vestibule of the main entrance of Castleman Hall, facing 10th Street, or by calling 573-341-4219.
The Chamber Choir will perform "Grace Before Sleep" by Susan LaBarr, "Autumn" by Joshia Shank and "Alleluia" by Randall Thompson.
The University Choir will take the stage with "Promise of Living" by Aaron Copland. The choir will also perform "How Can I Keep from Singing" by Gwyneth Walker and "ViAdoro" by Manolo Da Rold.
The Men's Choir will perform "Kyrie" by Randall Johnson, "Prayer of the Black Elk" by Karen P. Thomas and "For the Beauty of the Earth" by Paul John Rudoi.
The concert will also feature a performance of "Te Deum in C Major" by Franz Joseph Haydn.   The Chamber and University choirs' performance of the choral drama will include all three movements of the original work.
For more information on the concert or Missouri S&T choirs, contact Francis at lorief@mst.edu, or call the Missouri S&T performing arts office at 573-341-4185.