Khayat named RILEM Fellow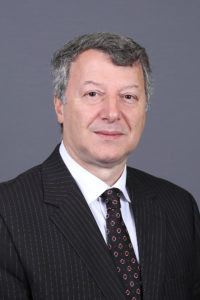 Dr. Kamal Khayat, the Vernon and Maralee Jones Professor of Civil Engineering and director of the Center for Infrastructure Engineering Studies at Missouri University of Science and Technology, has been named a Fellow of RILEM, the International Union of Laboratories and Experts in Construction Materials, Systems and Structures.
"The award of a RILEM Fellowship is a rare honor," says RILEM president Mark Alexander. "It is given for exceptional contributions to the work of RILEM and includes aspects such as scientific contributions and developmental contributions."
Khayat is one of only 64 named Fellows in the RILEM organization.
Khayat is the RILEM regional convener for North America in the Development Advisory Committee. He chaired six RILEM or RILEM co-sponsored conferences, and will chair the SCC (self-consolidating concrete) 2016 conference in May 2016 in Washington, D.C.
He specializes in the development of high-performance cement-based materials for structural applications and rehabilitation, particularly focusing on self-consolidating concrete (SCC) and high-performance concrete (HPC) behavior. His pioneering work in the area of SCC, starting in 1991, has contributed to its acceptance worldwide.
Khayat earned a Ph.D. in civil engineering with an emphasis in materials in 1989 from the University of California at Berkeley, where he also earned a bachelor of science degree in civil engineering in 1982, a master of science engineering degree in construction engineering and management and a master of science degree in structural engineering in 1984 and 1985, respectively.
Before his appointment at Missouri S&T in 2011, he served as director of the Center of Excellence on Concrete Infrastructure Engineering and head of the Integrated Research Laboratory on materials valorization and innovative and durable structures at the Université de Sherbrooke in Canada. In 2008, he was named the National Science and Engineering Research Council (NSERC) chair on high-performance flowable concrete with adapted rheology in 2008, a consortium of 17 industrial partners from Canada and the United States who are working to develop a new generation of construction materials.
###