Tickets still available for Condoleezza Rice lecture at Missouri S&T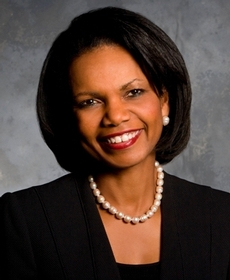 Tickets are still available for a May 14 lecture by Dr. Condoleezza Rice, the 66th U.S. Secretary of State. Rice is the 31st presenter in the Remmers Special Artist/Lecturer Series at Missouri S&T.
Rice will speak at 7:30 p.m. in the Gale Bullman Building, located at 10th Street and Bishop Avenue in Rolla. The lecture is free and open to the public, but tickets will be required and are limited to four per person. Tickets will be available between 9 a.m. and 4 p.m. at the Leach Theatre Box Office, located in Missouri S&T's Castleman Hall, 10th and Main streets in Rolla.
Rice is currently the Denning Professor in Global Business and the Economy at the Graduate School of Business at Stanford University, where she is also the Thomas and Barbara Stephenson Senior Fellow on Public Policy at the Hoover Institution. A founding partner of the international strategic consulting firm RiceHadleyGates L.L.C., Rice served as provost of Stanford from 1993-99.
Rice has authored and co-authored numerous books, including two bestsellers, "No Higher Honor: A Memoir of My Years in Washington" and "Extraordinary, Ordinary People: A Memoir of Family." She is also the co-founder of the Center for a New Generation, an innovative, after-school academic enrichment program for students in California that ultimately merged with the Boys and Girls Club of the Peninsula, where she maintains an active role.
Rice serves on the boards of Dropbox, a cloud storage company; C3, an energy software company and Makena Capital, a private endowment firm. In addition, she is a member of the boards of the George W. Bush Institute, the Commonwealth Club, the Aspen Institute and the Boys and Girls Clubs of America.
Born in Birmingham, Alabama, Rice earned a bachelor's degree in political science, cum laude and Phi Beta Kappa, from the University of Denver; a master's degree from the University of Notre Dame and a Ph.D. from the Graduate School of International Studies at the University of Denver.
Rice is a fellow of the American Academy of Arts and Sciences and has been awarded 11 honorary doctorates.
The Remmers Special Artist/Lecturer Series is supported through a fund established by the late Walter E. Remmers, a metallurgical engineering graduate of Missouri S&T, and his late wife, Miriam, to bring renowned speakers and performers to the campus. The first Remmers Lecture was held in 1979 and featured former President Gerald Ford.