See the impact of apps and online platforms on music teaching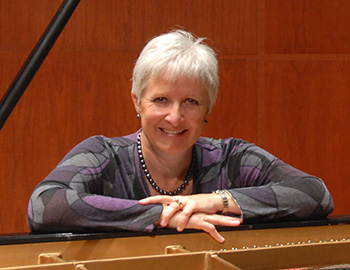 The area community is invited to attend a lecture on iPad apps and other online platforms that can enhance music education at Missouri University of Science and Technology.
Dr. Deborah Rambo Sinn, the 2015 Weiner Distinguished Professor of Humanities at Missouri S&T, will present "Smart Technology for the Music Teaching Studio, the Practice Room and the Stage" from 10 to 11:15 a.m. Monday, May 11, in Room 138 Castleman Hall.
The lecture will focus on apps and online platforms that can provide additional value to the practice and performance of music. Topics will include the gamification of music study, a list of apps currently popular with music teachers and the availability of online free and paid platforms.
Attendees can bring their iPad or laptop for immediate reference. According to Sinn, area independent music teachers may see the most benefit from attending the lecture.
Sinn is the author of "Playing Beyond the Notes: A Pianist's Guide to Musical Interpretation," which was published in 2013 by Oxford University Press. The book demystifies the complex concepts of musical interpretation by boiling it down to basic principles in an accessible writing style.
Sinn is also a classical pianist who has performed concerts on four continents. She has served on the faculty of two universities and has played keyboards for professional musical productions. Sinn spent five years in Germany, where she gained a reputation as a coach for musical interpretation working with various instrumentalists and professional opera singers. She holds master's degree in music and doctor of music degree, both from Indiana University.
For more information about the event, email Sinn at sinnd@mst.edu.