Missouri S&T historian to deliver keynote at international music conference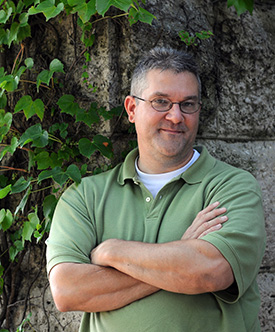 Missouri University of Science and Technology historian Dr. Patrick Huber will deliver the keynote address and moderate a panel on country music journalist and novelist Paul Hemphill at the International Country Music Conference.
The 32nd Annual International Country Music Conference will be held Thursday, May 21, through Saturday, May 23, at Belmont University in Nashville, Tennessee.
Huber, a professor of history and political science at Missouri S&T, will deliver a keynote address titled "Perspectives On 'The Location Concept of Country Roots Recording Sessions in the 1920s and 1930s" with three other country music scholars at 7 p.m. Thursday, May 21.
At 11 a.m. Friday, May 22, Huber will moderate the conference's Charles K. Wolfe Memorial Panel. This year's panel is titled "A Retrospective: The 45th Anniversary of Paul Hemphill's 'Nashville Sound, Bright Lights and Country Music.'"
The panel will feature recording artist Bill Anderson, Dr. David Anderson, associate professor of history at Louisiana Tech University; Dr. Don Cusic, professor of music business at Belmont University; Dr. Tim Dodge, a reference librarian and history specialist in the Ralph Brown Draughon Library at Auburn University; and Sharon Thomason, author of "Sing Them Over Again to Me."
Hemphill's book, first published in 1970, is being reissued by the University of George Press in recognition of its significance in the history of country music scholarship. It focuses on the pivotal moment in the late 1960s when the traditional defenders of the hillbilly roots of country music were confronted by the new influences and business realities of pop music.
Huber holds a Ph.D. from the University of North Carolina-Chapel Hill. He has written four books and co-edited a book about Hank Williams, The Hank Williams Reader. In 2000 he began teaching in the history and political science department at Missouri S&T, where he specializes in Missouri history, the American South and 20th century U.S. history.
In 2014, Huber received a Deems Taylor/Virgil Thomson Award for an essay titled "Black Hillbillies: African American Musicians on Old-Time Records, 1924-1932," appeared in "Hidden in the Mix: The African American Presence in Country Music." And in 2015, he received one of two State Historical Society of Missouri fellowships in the Center for Missouri Studies.