Bertram discusses importance of critical thinking at S&T commencement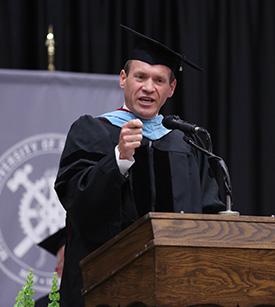 Dr. Vince M. Bertram, president and chief executive officer of Project Lead The Way, challenged Missouri University of Science and Technology graduates to "write a chapter of significance" in their lives during commencement ceremonies at Missouri S&T on Friday, May 15, and Saturday, May 16.
In his commencement address, Bertram discussed the importance of an educational foundation that prepares students to succeed.
"To preserve American liberty and prosperity, we must change course," Bertram said. "We have to nurture students' intellectual curiosity, inspire their innovative and entrepreneurial spirits, and help build the character that will strengthen the fabric of our great nation.
"During your time here, you have developed essential knowledge and skills to have successful careers," Bertram said. "But I believe your most meaningful contributions will be mentoring others, being great role models, and helping enhance the quality of life in the communities in which you will live."
Project Lead The Way (PLTW) is a nonprofit organization that develops curricula in science, technology, engineering and mathematics (STEM) fields for use by elementary, middle and high schools, and provides professional development training for instructors.
Since Bertram joined PLTW in June 2011, the organization has grown to serve more than 6,500 schools across the U.S., trained thousands of teachers and received numerous national recognitions, awards and partner support.
Bertram is a highly sought-after speaker and thought leader and has traveled across the United States, as well as internationally, to address audiences on the issues of STEM education, workforce and the economy. In 2014, he was appointed by the U.S. Department of State to serve as the education expert for its United States Speaker and Specialist Program. He has testified before the U.S. House of Representatives and is also a frequent contributor to the Huffington Post and other national publications.
In November 2014, Bertram became a New York Times best-selling author with his book "One Nation Under Taught: Solving America's Science, Technology, Engineering, and Math Crisis." In the book's foreword, Steve Forbes, chairman and editor-in-chief of Forbes Media, writes, "[Dr. Bertram] provides a blueprint for enabling students to fall in love with STEM subjects – subjects that don't have to be dreary or intimidating. He shows how teachers can break away from the rut of traditional teaching and kindle in kids [a] curiosity that will lead them to becoming passionate about learning."
Before joining PLTW, Bertram was superintendent of Indiana's third-largest urban school district, which he led to unprecedented improvements in student achievement, community collaboration and operational efficiency. Bertram is a member of the Indiana Education Roundtable and has held numerous leadership roles, including serving on the Clinton Global Initiative STEM Working Group and chairing the National Council for National Honor Society, as well as serving as director for several nonprofit boards.
Bertram was named a "Distinguished Hoosier," one of Indiana's highest honors, by former Indiana governor Mitch Daniels, and his peers at the Harvard Graduate School of Education honored him with the Intellectual Contributions/Faculty Tribute Award for his contributions to intellectual life at the Harvard Graduate School of Education.
Bertram earned doctorate, specialist, master's, and bachelor's degrees from Ball State University, a master's degree in education policy and management from Harvard University, and an executive certificate in strategy and innovation from the MIT Sloan School of Management. He is an alumnus of the Chicago Management Institute at the University of Chicago's Booth School of Business and received an honorary doctorate in engineering from the Milwaukee School of Engineering.