Dan Lin is Missouri S&T's Woman of the Year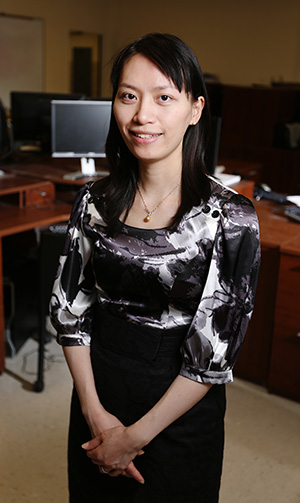 Dr. Dan Lin, assistant professor of computer science at Missouri University of Science and Technology, has been named the 2015 Woman of the Year by Missouri S&T. She was honored during a campus ceremony on Wednesday, April 15.
The Woman of the Year award is given annually in recognition of efforts to improve the campus environment for women and minorities. As part of the award, Lin received a $2,000 stipend funded by Missouri S&T graduate Cynthia Tang, founder and former chair of Insight Industries Inc.
"Dr. Lin's commitment to the promotion of diversity and student success in engineering and computer science is exemplified by her accomplishments over a relatively young career in academia," wrote one of her nominators. "Since her appointment with S&T, she has worked diligently in advocating for, mentoring and educating students."
Lin joined the Missouri S&T faculty in 2008. She teaches courses on cloud computing, pervasive computing, database systems, and file structure, and introduction to database systems. Her research focuses on the fields of database systems and information security.
"Computer science has for many years suffered nationwide from a lack of female role models such as Dr. Lin, to help stem the tide of the decreasing percentage of computer scientists who are female," wrote another nominator. "Dr. Lin is a shining example for all S&T's female computer science students, both through her research accomplishments, her student organization service, and her outreach to young women."
At Missouri S&T, Lin has chaired the diversity committee in the computer science department since 2011. She also serves on the Honorary Degree Committee, the Student Scholastic Appeals Committee, the Peer Teaching Evaluation Committee and the computer science department's Faculty Hiring Committee. She is faculty advisor for the student chapter of IEEE Computer Society and ACM-W (Women in Computing) and since 2009 has organized workshops for Missouri S&T's Expanding Your Horizons program for girls in 7th and 8th grades who are interested in mathematics and science.
Lin has garnered over $4 million in external research grants from agencies like the National Science Foundation and the National Security Agency. Her research has been published in numerous book chapters, conference proceedings and refereed journals.
A member of the Institute of Electrical and Electronics Engineers (IEEE) and the Association of Computing Machinery (ACM), Lin's many accolades include the St. Louis Section of IEEE Certificate of Appreciation, two IEEE St. Louis Section Outstanding Branch Counselor awards, a Grace Hopper Scholarship and the Ted Nelson Newcomer Award for best paper at the 22nd ACM Conference on Hypertext and Hypermedia in 2011.
Lin earned a Ph.D. in computer science from National University of Singapore in 2007. She also holds a bachelor of science degree in computer science from Fundan University in Shanghai, China.