S&T graduates honored for excellence in teaching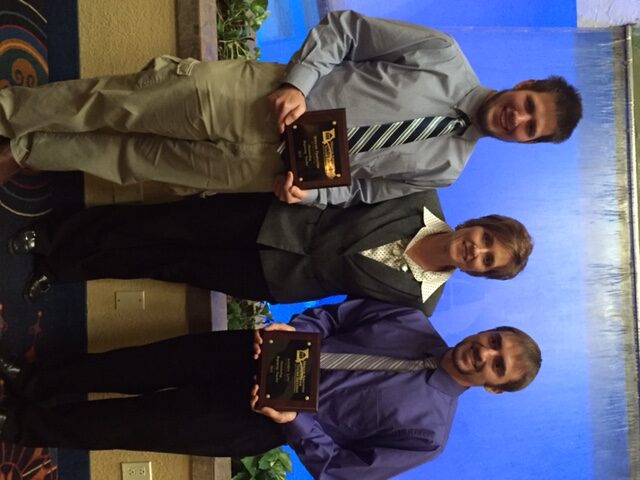 Two Missouri University of Science and Technology graduates were honored by the Missouri Association for Colleges of Teacher Education (MACTE) for excellence in teaching.
Spencer Templeton, a 2013 physics graduate who teaches physics and Project Lead The Way in the Ferguson Florissant School District, and Andrew Lott, a 2013 biological sciences graduate who teaches sciences and coaches at Newburg High School in Newburg, Missouri, were named Outstanding Beginning Teachers during MACTE's spring conference on March 6.
A total of 61 outstanding teachers were recognized for their excellence in serving children during their first two years of service in school districts across Missouri. Thirty-six of Missouri's private and public institutions of higher education, offering state and nationally recognized programs, honored these professionals who completed education programs at their respective institutions.
Award recipients were selected based on evaluations of outstanding graduates completed by their college or university, and recommendations from the school district which deemed the teacher as highly effective in their first two years in the classroom.
Present at the awards ceremony was Dr. Shawn Young, MACTE president, several other members of the MACTE board and Dr. Gale (Hap) Hairston, director of educator preparation at the Missouri Department of Elementary and Secondary Education.
Each recipient was awarded an engraved plaque to display in their classroom. MACTE recognizes the contribution of these fine teachers, as well as all of our excellent, highly qualified teachers throughout Missouri's who serve and educate our students.