Chancellor brings Show Me Value Tour to Steelville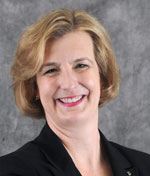 Dr. Cheryl B. Schrader, chancellor of Missouri University of Science and Technology, will tour Steelville Manufacturing Co. and visit Steelville Middle School on Thursday, April 2, as part of the Show Me Value Tour, a statewide initiative by University of Missouri System leaders to discuss the importance of a college education.
Schrader will tour Steelville Manufacturing with company President Dennis Bell, a 1990 mechanical engineering graduate of Missouri S&T, at 9 a.m. She will then visit Steelville Middle School at 10 a.m. to speak with students there about the importance of preparing for a college degree. A media availability with Schrader will be held immediately following her presentation. Later in the day, she will meet with Steelville business and community leaders to discuss higher education's importance in today's social and economic environment.
"As chancellor, I have a backstage pass to all the wonderful education and research going on at our campus," says Schrader. "On a daily basis, I see first-hand the transformative power of education. This tour is about sharing that a college education is the greatest opportunity for personal, lifelong success – and it's never too soon to begin thinking about pursuing a college degree.
"By every measure – income, prosperity, health and civic engagement – a college education has a profound effect on individuals and their communities," Schrader adds.
Schrader, the 21st leader in Missouri S&T's 145-year history, joined the campus as chancellor in April 2012. She holds a Ph.D. in electrical engineering from the University of Notre Dame and is one of the few female engineers to ascend to the top leadership position of any U.S. college or university.
The Show Me Value Tour was established by UM System President Tim Wolfe in 2013 as a way to highlight the benefits of going to college.