Missouri S&T announces 2015 Honorary Knights of St. Pat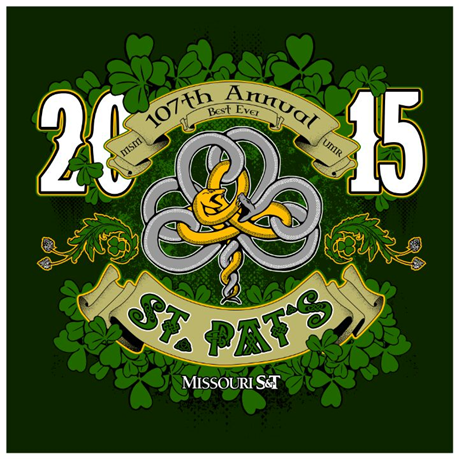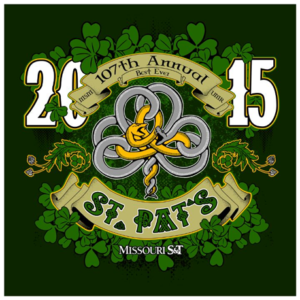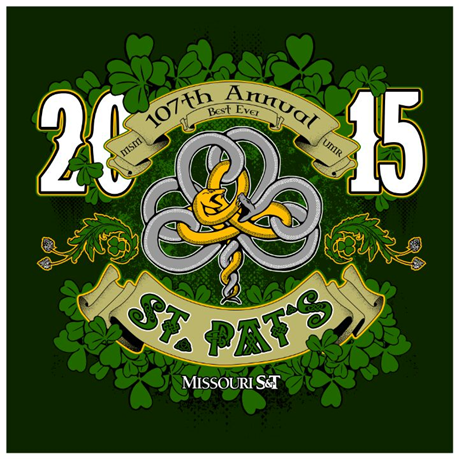 The St. Pat's Celebration Committee at Missouri University of Science and Technology has announced its 2015 list of Honorary Knights of St. Patrick. The Honorary Knights are Dr. Henry Antolak, Dr. Henry Foley, Dr. William James, Cheryl McKay, Susan Rothschild, Jesse Singleton and Dr. Phil Whitefield.
The new knights will be honored during a public coronation at 9 p.m. Friday, March 13, in Leach Theatre of Castleman Hall on the Missouri S&T campus.
The 2015 St. Pat's Parade begins at 11 a.m. Saturday, March 14, on Pine Street in Rolla. Dr. Delbert Day will serve as parade marshal and as Honorary St. Pat. Biographical information is as follows:
2015 Honorary St. Pat and parade marshal Dr. Delbert E. Day
Dr. Delbert E. Day of Rolla, Missouri, is a Curators' Professor emeritus of materials science and engineering and a senior investigator in the Graduate Center for Materials Research at Missouri S&T. During his career, he has been granted 64 U.S. and foreign patents, which include glass microspheres for treating liver cancer, bioactive glasses for wound healing and bone repair, chemically durable iron phosphate glasses for vitrifying nuclear waste and optically transparent composites. Day conducted the first U.S. glass melting experiments in micro-gravity on NASA's Space Shuttle and is co-inventor of special-purpose glass microspheres, TheraSphere, which are now used at over 200 sites worldwide to treat patients with inoperable liver cancer. He is a co-inventor of "Glasphalt," which uses recycled glass as part of the aggregate in asphalt paving. Day is the former chairman and president of MO-SCI Corp, a company he co-founded to manufacture special-purpose glasses for the healthcare, electronics, transportation, aerospace, chemical and sporting goods industries.
2015 Honorary Knight Dr. Henry Antolak
Dr. Henry Antolak of Rolla, Missouri, is owner of Forum Dental, which he founded in Rolla in 1979. Today, Forum Dental has locations in Rolla; St. Robert, Missouri; and St. Louis. Antolak oversees 14 doctors and over 40 employees. He is a graduate of the Southern Illinois University School of Dental Medicine and is a member of both the American Dental Society and the Greater St. Louis Dental Society. Antolak co-owned the Cavern Bar (currently The Grotto) in the early 1980's. He is a Court Appointed Special Advocates (CASA) volunteer and former board member, has participated in Mission of Mercy Katrina Relief and has completed four ironman-distance triathlons.
2015 Honorary Knight Dr. Henry C. "Hank" Foley
Dr. Henry C. "Hank" Foley of Columbia, Missouri, is senior vice chancellor for research and graduate studies at the University of Missouri-Columbia (MU) and executive vice president for academic affairs, research and economic development at the University of Missouri System. He leads the system's strategic planning efforts, provides system wide leadership in academic programs and promotes economic development. Foley is a professor of chemistry at MU and holds a joint appointment in the chemical and biochemical engineering department at Missouri S&T. He holds numerous memberships in professional and honorary societies, has authored over 100 papers and holds nearly 20 patents.
2015 Honorary Knight Dr. William J. "Bill" James
Dr. William J. "Bill" James of Rolla, Missouri, is a professor emeritus of chemistry at Missouri S&T. He joined the chemistry and chemical and biochemical engineering departments in 1953. He played a key role in the establishment of a Ph.D. program in chemical engineering and was the major advisor to the university's first recipient of a Ph.D. in chemical engineering. In 1960-62 he was awarded a Fulbright Senior Fellowship to determine the magnetic structures of rare earth 3-D transition metal alloys employing the neutron diffraction facilities of the Centre des Etudes Nucleare de Grenoble in France. He performed research in the laboratoire de Magnetisms under the direction of professors E.F. Bertaut and L. Niel, Nobel Laureate in physics. James co-founded the Missouri S&T Graduate Center for Materials Research and served as its director from 1964 to 1975 and again from 1980 to 1982. He was the recipient of the Thomas Jefferson Award from the University of Missouri System Board of Curators in 1989 and the Chancellor Medal in 1997. James is a member of the Academy of Chemical Engineers and the Academy of Chemists and Biochemists.
2015 Honorary Knight Cheryl McKay
Cheryl McKay of Rolla, Missouri, is manager of the web and interactive marketing team in the marketing and communications department at Missouri S&T, where she develops and oversees the official university web presence. McKay initially started in the department as a graphic designer. She attended Missouri State University with a focus in commercial art. McKay is a creative artist and enthusiastic gardener who perpetuates saving and planting heirloom seeds. She and her husband, Robert, collectively have four children, two of whom attended Missouri S&T, along with several unofficially adopted children, eight grandkids and Bliss, the best dog ever.
2015 Honorary Knight Susan Hadley Rothschild
Susan Hadley Rothschild of St. Louis graduated from Missouri S&T in 1974 with a bachelor of science degree in computer science. After graduating, she moved to St. Louis to work for Southwestern Bell. In 1993 Rothschild earned a master of accounting degree from the University of Missouri-St. Louis. She worked as a certified public accountant until she retired in 2013. Rothschild was president of the Miner Alumni Association from 2010 to 2012. She is a member of the Academy of Computer Science at Missouri S&T and the Alumni Alliance of the University of Missouri System. Rothschild and her husband, Sandy, live in St. Louis where she serves on the Richmond Heights Memorial Library Board, as treasurer of the Grace United Methodist Church and is a dedicated fan of the St. Louis Blues.
2015 Honorary Knight Jesse Singleton
Jesse Singleton of St. James, Missouri, is the manager of printing and mail services at Missouri S&T. He has been employed by the university since 1984. Singleton has served on the St. James City Council and currently serves as president of the St. James Ambulance Board. He has been a volunteer at the St. James Veterans Home and the St. James Community Recreation Center. In addition to his volunteer service, Singleton enjoys woodworking, "flipping" houses and spending time with his family. His two sons, Nathan and Joshua, are both graduates of Missouri S&T.
2015 Honorary Knight Dr. Phil Whitefield
Dr. Phil Whitefield of Rolla, Missouri, was born in Taunton, England. He is currently chair and professor of chemistry at Missouri S&T, where he also serves as director of the Center of Excellence for Aerospace Particulate Emissions Reduction Research. Whitefield joined the Missouri S&T faculty in 1990. His work has led to a global standard for aviation particulate matter emissions characterization. He has been married to the love of his life and best friend, Barbara, for 31 years. Whitefield and his wife had two children. Thomas, a stand out soccer player who died at the age of 18 in an auto collision in 2003, and Olivia (Livvie), who is an elementary school counselor in Houston, Missouri.