New Weiner Professor to offer Mechanics of Music course at S&T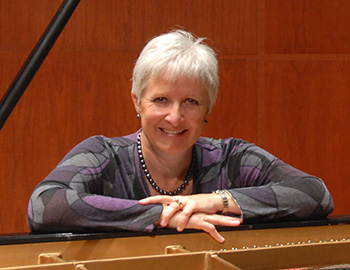 Pianist and author Dr. Deborah Rambo Sinn has joined the Missouri University of Science and Technology faculty this spring as the 2015 Maxwell C. Weiner Distinguished Professor of Humanities. She is teaching a course on the construction of music in the arts, languages, and philosophy department at Missouri S&T this semester.
The course, "The Mechanics of Music," is offered from 12:30-1:45 p.m. Tuesdays and Thursdays beginning Tuesday, Jan. 20. Class will be held in Room 138 Castleman Hall, 10th and Main streets in Rolla.
The course isn't limited to current Missouri S&T students – the public is invited to participate. No background in music is required. Community members may register for the course by applying as a visiting student through Missouri S&T's Visiting Student Program. More information about the program, including an online application, is available online. For more information, contact the admissions office at 573-341-4165.
Mechanics of Music is designed to teach students how music is constructed and will include topics on tuning, notation and repertoire. Sinn will use musical apps to encourage participation and to help with comprehension of the material.
Sinn is the author of Playing Beyond the Notes: A Pianist's Guide to Musical Interpretation, which was published in 2013 by Oxford University Press. The book demystifies the complex concepts of musical interpretation by boiling it down to basic principles in an accessible writing style.
Sinn is also a classical pianist who has performed concerts on four continents. She has served on the faculty of two universities and has played keyboards for professional musical productions. Sinn spent five years in Germany, where she gained a reputation as a coach for musical interpretation working with various instrumentalists and professional opera singers. She holds master's degree in music and doctor of music degree, both from Indiana University.
Missouri S&T's Maxwell C. Weiner Distinguished Professorship in Humanities, established by an estate gift to the university in 1999, is rotated among S&T's arts, languages, and philosophy department, the English and technical communication department, and the history and political science department.
Weiner graduated from Missouri S&T when it was known as the Missouri School of Mines and Metallurgy. He also studied at the University of Hawaii and at Washington University in St. Louis. He retired from Westinghouse Electric Corp.
For more information on the Mechanics of Music, contact Sinn at sinnd@mst.edu or call 573-341-4574.