At upcoming conference, historian to discuss lessons from technology's past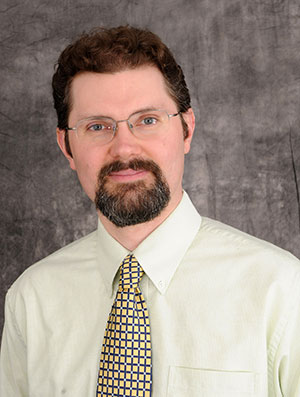 The impact of technological innovation on industries in the past holds valuable lessons for colleges and universities as they wrestle with new approaches to learning that could challenge traditional teaching models.
That's the lesson Dr. Jeff Schramm, associate professor of history and political science at Missouri University of Science and Technology, plans to share with attendees at Missouri S&T's 2015 Teaching and Learning Technology Conference in March.
"The technological disruption facing higher education isn't unique," says Schramm, who specializes in the history of technology. "It seems everywhere we turn, there is someone talking about how technology is going to fundamentally change education. But what we are facing today in teaching and instruction is similar to challenges that other industries have faced, and we can look to the past for lessons of technological change and how we can appropriately respond to this change."
Schramm is one of two keynote speakers for the TLT Conference, which will be held March 12-13 on the Missouri S&T campus. To the uninitiated, the title of his presentation – "MOOCs, LMS, ELI, PRR, CB&Q and EMD" – looks like alphabet soup. But the subtitle – "What the history of technology can teach us about the future of higher education" – best describes the point Schramm hopes to drive home.
"While technology changes, our reaction to change – whether we resist it or welcome it – really does not change," Schramm says.
Primarily a historian of modern technology, Schramm is currently researching the scientific and technological research activities of the U.S. Bureau of Mines, which was a branch of the U.S. Department of Interior until the bureau was closed in the mid-1990s. In particular, Schramm is studying the activities of the bureau's Rolla Research Center and the Synthetic Liquid Fuels Plant at Louisiana, Missouri.
Schramm also is the author of Out of Steam: Dieselization and the American Railroads, 1920-1960, which was published in 2010.
Schramm will deliver the TLT Conference closing keynote at noon Friday, March 13, in Room 125 Butler-Carlton Hall on the Missouri S&T campus. The opening keynote speaker is Dr. Robbie Melton, associate vice chancellor for mobilization emerging technology for the Tennessee Board of Regents. She will speak on "The Emergence of Mobile and Smart Devices: Is Your Device Smarter than You?" at 10:30 a.m. Thursday, March 12, in 125 Butler-Carlton Hall.
The Teaching and Learning Technology conference is hosted by Missouri S&T's educational technology office. For more information about the conference, visit tlt.mst.edu.