ArcAttack to perform at Missouri S&T Feb. 13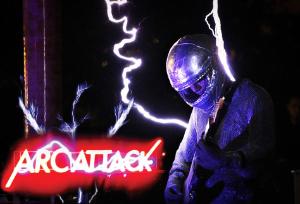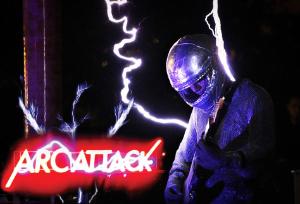 The high-tech instrumentation group ArcAttack will visit Missouri University of Science and Technology this month. The performance is part of Missouri S&T's 2014-15 Leach Theatre Family Series.  ArcAttack is known for its singing Tesla coils, a robot drum kit and its stunt-man emcee.
The six-man group will perform at 7 p.m. Friday, Feb. 13, in Leach Theatre of Castleman Hall, 10th and Main streets in Rolla.
Tickets are $12 each and are available online at leachtheatre.mst.edu/familyseries/14-15/achristmascarol/arcattack/. Tickets can also be purchased 9 a.m. to 4 p.m. Monday through Friday from the Leach Theatre Box Office, located in the vestibule inside the main entrance to Leach Theatre, facing 10th Street.
Founded in 2005, Arcattack has been featured on "America's Got Talent," "Through the Wormhole with Morgan Freeman" and National Geographic's "Known Universe." By modulating the spark output of two Tesla coils, ArcAttack is able to produce rock, electronic, indie, punk, metal and pop rhythms. The group combines the famous singing Tesla coils with a robot drum kit and traditional instruments to produce a unique listening experience.
For more information about the Feb. 13 performance, or to purchase tickets, contact the Missouri S&T Leach Theatre Box Office at 573-341-4219. More information about the Leach Theatre Family Series is available online at leachtheatre.mst.edu/familyseries/.