John J. Myers named Fellow of The Masonry Society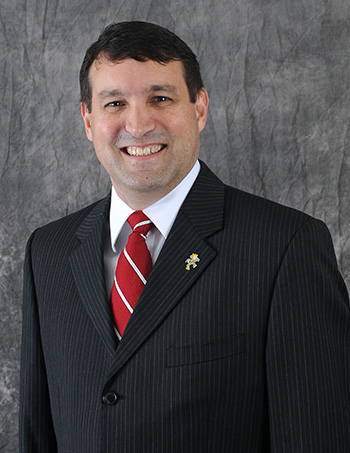 Dr. John J. Myers, professor of civil, architectural and environmental engineering at Missouri University of Science and Technology, was awarded Fellow Membership status in The Masonry Society (TMS).
Myers was honored for his contributions to the scholarly and educational advancement in the masonry field. Fellow membership is one of the highest awards that can be bestowed on a TMS member and is granted only rarely for exceptional service by individuals who have been Members of TMS for more than 10 years.
Myers also received the Professional Recognition Award from the St. Louis Section of the American Society of Civil Engineers (ASCE) at a celebration honoring the chapter's 100-year anniversary.
Myers, who is also director of the Structural Engineering Research Laboratory (SERL) at Missouri S&T, studies structures and high-performance concrete (HPC) behavior and durability performance; fiber-reinforced polymers (FRP) in structural repair and strengthening applications especially as they relate to concrete and masonry structures, and their durability performance; development of environmentally sensitive construction materials; and hybrid materials and enhanced systems for blast-resistant structures.
Myers, who has more than 10 years of industry experience as a practicing structural engineer, joined the Missouri S&T faculty in the spring of 1999. He is a registered professional engineer in Missouri, Pennsylvania and Maryland.
Myers earned master of science and Ph.D. degrees in civil engineering from the University of Texas at Austin in 1994 and 1998, respectively. He earned a bachelor of science degree in architectural engineering with a structural engineering emphasis from the Pennsylvania State University in 1987. He is a Fellow of the American Society of Civil Engineers and a Fellow of the American Concrete Institute.