Visit Missouri S&T's spooky haunted mine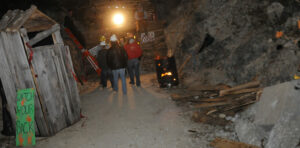 Mining engineering students at Missouri University of Science and Technology are brewing up a special treat for people who want to visit S&T's Experimental Mine Facility this Halloween.
Student volunteers will turn the mine into a Haunted Mine to earn funds for the Society for Mining, Metallurgy and Exploration; Women in Mining; the International Society for Explosives Engineers; and the National Stone, Sand and Gravel Association; as well as for S&T's mine rescue and mucking teams. The fundraiser has been held every Halloween since 1997.
Tours of the 2014 Haunted Mine will be held from 6 to 11:30 p.m., Oct. 17, 18, 24, 25 and 31 and Nov. 1.
Tickets are $10 for age 11 and up and $8 for children under 10, as well as S&T students and active and veteran military with valid IDs.
A $2 discount will be given to each person who brings two canned goods to donate to the Russell House, a shelter for women and children who are victims of domestic violence.
The Missouri S&T Experimental Mine is located off Bridge School Road in Rolla, about 1.5 miles from campus.
For more information about the Haunted Mine, call 573-341-6406.