Boeing, Missouri S&T enter into master research agreement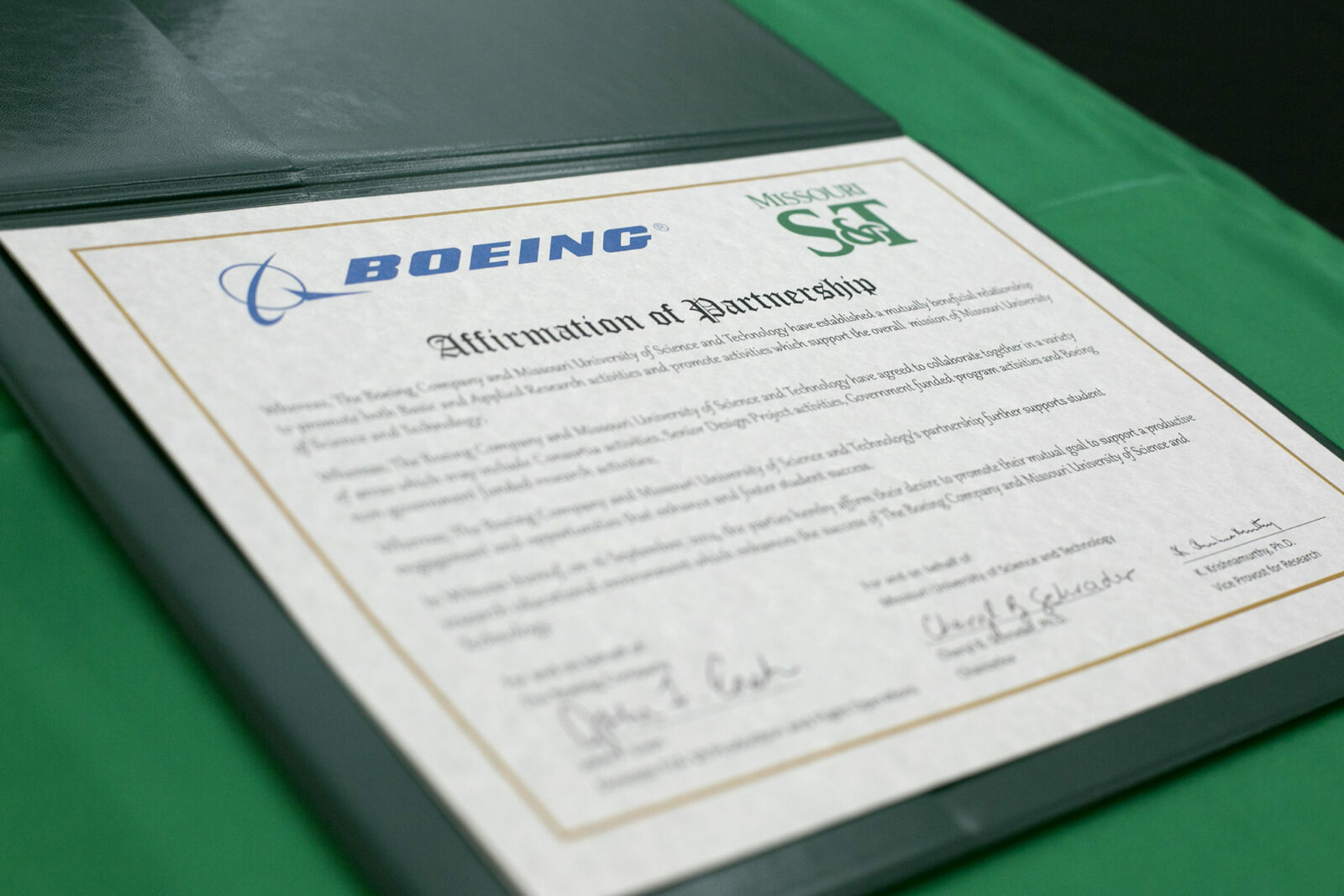 Officials from Missouri University of Science and Technology today (Tuesday, Sept. 16, 2014) announced a master research agreement with Boeing that will allow the two organizations to work more closely on research projects for the aerospace company.
"Boeing has been a longstanding partner of Missouri S&T's students, educational programs and research mission, and this new research agreement will ensure our partnership remains vibrant for years to come," Missouri S&T Chancellor Cheryl B. Schrader said during the formal signing ceremony, which was held at 3 p.m. today at the Technology Development Center in Missouri S&T's Innovation Park.
Along with the agreement, Boeing has established an office at Missouri S&T's Technology Development Center to advance the two organizations' joint research activities.
"Our presence on campus will help strengthen Boeing's ties to Missouri S&T not only for research, but also for continuing education and for recruiting the most talented students into Boeing," said John Eash, F/A-18 production and flight operations director and Boeing's executive focal for Missouri S&T. Eash holds a bachelor's degree in aerospace engineering and a master's degree in engineering management from Missouri S&T.
The announcement occurred on the eve of Boeing Day, an annual event held at Missouri S&T since 2010 to encourage students to interact with Boeing representatives about career opportunities with the company. Boeing is the top employer of Missouri S&T graduates; more than 2,600 graduates from the university have gone to work for the aerospace company.
The master research agreement between Boeing and S&T provides a single agreement that allows Missouri S&T researchers to work with all aspects of Boeing, including Boeing Defense Systems, Boeing Commercial Airlines and Boeing Research & Technology, the company's research and development arm. Dr. James Castle, a Boeing technologist with BR&T and a Missouri S&T graduate, now staffs the Boeing office at the Technology Development Center in Rolla.
Castle's presence on campus, combined with the master research agreement, will allow Boeing to work more closely in the development of systems technology, digital aviation and support technology, and metallic and ceramics fabrication development, among other fields. Boeing and S&T have worked together on several projects in recent years. The collaborative research has resulted in advances in many areas, from non-chrome paint primers, to advanced machined product technologies, to machine metrology. The Boeing/S&T master agreement allows Missouri S&T students and Boeing employees to focus on creating the next advance without having to worry about individual research agreements and contracts.
Boeing and Missouri S&T's long-standing relationship extends back to the 1960s, when former aerospace company McDonnell Douglas, which merged with Boeing in 1997, helped the university establish an engineering graduate program in St. Louis in 1964. Missouri S&T's Engineering Education Center in St. Louis offered master's degrees to Boeing employees who were working in St. Louis through evening courses. The EEC continues to serve employees of Boeing and other St. Louis area businesses today.
In 1999, S&T and Boeing again came together to develop an online master of science degree in systems engineering for Boeing employees. A few years later, they established a Ph.D. in systems engineering – the first fully online Ph.D. in that discipline.
Boeing also worked with Missouri S&T to create the Center for Aerospace Manufacturing Technologies on campus in 2004. The CAMT has developed into a consortium that includes other aerospace companies and suppliers, and emphasizes research to address a variety of technical challenges facing the aerospace industry.
In 2013, after Boeing announced that it was establishing an information technology hub in St. Louis, the company further strengthened its partnership with Missouri S&T by appointing Russ Benson, St. Louis IT executive, as Boeing's executive focal to Missouri S&T for IT-related employment, research and education.
Boeing is the largest employer of Missouri S&T graduates. Company representatives have attended at least one of Missouri S&T's two annual career fairs every year since 1989.
Boeing is the 10th company to lease space in Missouri S&T's Technology Development Center since the site opened in 2011. Boeing joins the following firms: Garmin Inc., Integrated Information Systems Inc., IST-Rolla, Lumate, Missouri Enterprise, Phenix Solutions LLC, the Ravens Group, the Rolla Regional Economic Commission and Tech 44: The Ideas Highway. In addition, the Technology Development Center provides resources for one "virtual tenant" business (Nextage Tek LLC) and is home to six companies founded by Missouri S&T students: Canvas Electronic, Dual Cases LLC, Intercept Research, Off Kilter Studios LLC (a virtual company), ProtoQ LLC and Solobuy.