Angela Rolufs appointed to governor's energy strategy panel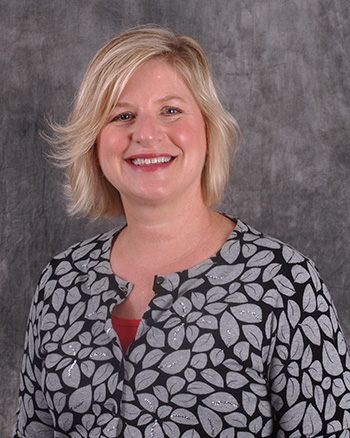 Angela Rolufs, director of the office of sustainable energy and environmental engagement (OSE3) at Missouri University of Science and Technology, has been appointed by Gov. Jay Nixon to a new committee to guide the development of a statewide energy plan.
Rolufs is one of more than 50 leaders in business, labor, education and energy from throughout Missouri to be named to Nixon's Comprehensive State Energy Plan steering committee. Nixon announced the appointments on Friday, Sept. 26.
"We need a Missouri-made energy plan, developed with public input and reflective of the diverse array of energy interests encompassed by our great state," Nixon said. "Energy is central to the future of our economy and our communities, so I appreciate the Missourians of this caliber who have stepped up to help guide this important process."
The Comprehensive State Energy Plan steering committee will hold its inaugural public meeting at 1:30 p.m. Wednesday, Oct. 1, in St. Louis at Washington University's Eric P. Newman Education Center Auditorium. Additional meetings will be held throughout the month of October at various locations around the state, including an Oct. 9 meeting at Fort Leonard Wood.
In June, Nixon signed Executive Order 14-06 to formally launch the development of a Comprehensive State Energy Plan, led by Department of Economic Development's Division of Energy. The governor also directed the division to form a steering committee consisting of community leaders, business owners and residents. A final report from the Division of Energy will be submitted to Nixon by May 31, 2015.
As director of OSE3, Rolufs is responsible for developing, leading and promoting Missouri S&T's environmental sustainability initiatives. OSE3 is also responsible for the management of S&T's Solar Village, a neighborhood of student-designed and –built solar-powered houses that are interconnected through a new "smart" microgrid. The office also coordinates operation of the first fully electric bus on the Missouri S&T campus and works with corporations and governmental agencies on various partnerships to advance sustainable practices for the campus.
Rolufs has served as director of OSE3 since 2011. She joined Missouri S&T in 2006 as assistant director of the Missouri Transportation Institute. Previously, she worked for the U.S. Army as a master planner at Fort Leonard Wood. She holds a bachelor of science degree in engineering management from Missouri S&T and a master of public administration degree from the University of Kansas.