Missouri S&T's Ghasr named Outstanding Young Engineer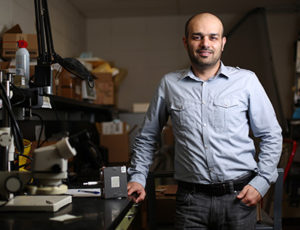 Dr. Mohammad Tayeb Ghasr, assistant research professor in electrical and computer engineering at Missouri University of Science and Technology, was named Young Engineer of the Year by the Institute of Electrical and Electronics Engineers Instrumentation and Measurement Society.
The award, which honors Ghasr for "outstanding contributions to real-time microwave imaging and nondestructive testing systems development," was presented at the 2014 International Instrumentation and Measurement Technology Conference held earlier this summer in Uruguay.
Ghasr, a researcher in the Missouri S&T Applied Microwave Nondestructive Testing Laboratory, holds four U.S. patents. His research focuses on the design and development of microwave and millimeter-wave portable cameras that are capable of producing 3-D images in real time.
"Microwave and millimeter-wave signals easily penetrate inside of non-conductive materials like rubber, fabric, plastics, and fiberglass and interact with their inner structures," Ghasr says. "The ultimate goal is designing portable, battery-operated cameras for use in industry, aerospace, security and biomedical applications."
Ghasr's current project is to design and build a real-time 3-D imaging device that operates at millimeter-wave frequencies and is capable of providing video and still imaging of the interior structures of various objects.
"Such a device can be used for security screening purposes to examine bags and backpacks carried into a sporting venue," Ghasr says.