Innovation Park building receives LEED certification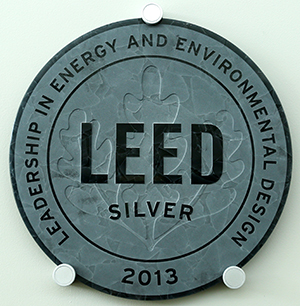 Missouri University of Science and Technology's Technology Development Center (TDC) was recently awarded LEED Silver Certification from the U.S. Green Building Council. The LEED rating system is the foremost certification program for buildings, homes and communities that are designed, constructed, maintained and operated for improved environmental and human health performance.
The 22,000-square-foot building is the first construction in Missouri S&T's Innovation Park, a planned research park located on the campus' southwest corner. Completed in 2010, the TDC is home to a number of technology-oriented businesses, including several student-led startups.
"We are honored to receive LEED certification for our first building in Innovation Park," says Missouri S&T Chancellor Cheryl B. Schrader. "This demonstrates our commitment to sustainability practices and sets a standard for future construction."
Keith Strassner, director of technology transfer and economic development at Missouri S&T, says that although LEED certification was not in the original plan, representatives from Brinkmann Constructors were confident it could be achieved within the building's budget.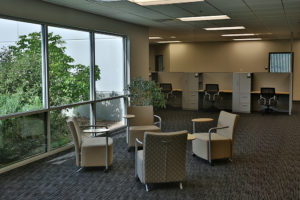 "It requires a lot of planning and forethought – not only into what type of systems you install, but where the materials come from, how far you have to truck them, and how you minimize wastes from the construction site and what has to be trucked away," says Strassner. "Bob Brinkmann and his team wanted to show that it was possible to build an affordable 'class A' office building and still meet LEED environmental quality standards."
Brinkmann, founder and CEO of Brinkmann Constructors, is a 1971 civil engineering graduate of Missouri S&T.
The TDC achieved LEED Silver certification for sustainable site development, water savings, energy efficiency, materials selection and indoor environmental quality. The building's LEED scorecard is available online.