S&T team to compete in EPA sustainability challenge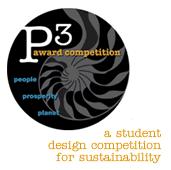 Six students from Missouri University of Science and Technology are headed to Washington, D.C., this month to compete in the 10th annual Environmental Protection Agency People, Prosperity and the Planet (P3) Awards Competition and National Sustainable Design Expo.
Missouri S&T students will present a project that demonstrates a way to cool homes using smart sensors, which indicate the best times to maximize a home's energy efficiency using solar shading devices and natural ventilation.
The competition will take place at the USA Science & Engineering Festival April 25-27. Forty college teams from across the United States will showcase their ideas to solve the nation's greatest environmental problems as they compete for a P3 Award and a grant of up to $90,000 to turn the idea into a business, or implement it in the community.
The projects are intended to benefit people, promote prosperity and protect the planet — the three components of sustainability. Scientists and engineers from nonprofits will also be on hand to showcase their contributions to advancing sustainability.
More than 250,000 attendees are expected to attend the free festival, which is the world's largest STEM (science, technology, engineering and math) outreach event. The event will include 3,000 hands-on exhibits, experiments, concerts and talks from leading technology entrepreneurs, Nobel Prize-winning scientists, celebrities, Fortune 500 CEOs and others.
"We are excited to see this year's P3 student teams exhibit their innovative designs and ideas at the USA Science & Engineering Festival," said Lek Kadeli, acting assistant administrator of the EPA's office of research and development. "These projects not only represent a passion for creating sustainable solutions by these young students, but also reflect a vibrant future for this nation's ability to address some the world's most challenging environmental problems."
The following students are representing Missouri S&T at the event:
Nicole Annis, a Ph.D. candidate in civil engineering from Rolla
Melody Elder, a sophomore in geological engineering from Waynesville, Mo.
Danielle Jensby, a senior in architectural engineering from Rolla
Joshua Jensby, a graduate student in electrical engineering from Olathe, Kan.
Timothy O'Connor, a senior in architectural engineering from Rolla
John Tegtmeyer, a junior in computer science from Florissant, Mo.