Missouri S&T campus master plan envisions redefined campus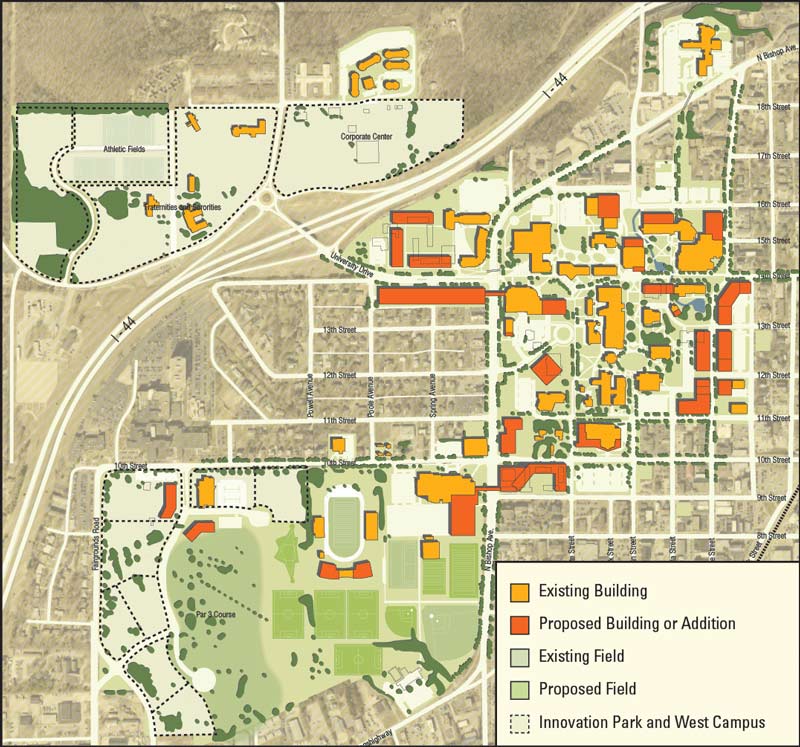 Update: The plan was adopted by the University of Missouri System Board of Curators on Friday, April 11, 2014.
A clearly defined university "arrival district" off U.S. Highway 63, an innovative learning commons at the center of campus, a modern structure to showcase interdisciplinary research, and a mix of student housing, retail and office buildings along Pine Street are among the possible future changes to the Missouri University of Science and Technology campus as envisioned in an updated campus master plan.
The plan, which is designed to guide Missouri S&T's long-range physical development over the next 20 to 25 years, is the result of nearly a year of planning by Missouri S&T administrators, students, faculty and staff in consultation with Rolla community leaders. Missouri S&T Chancellor Cheryl B. Schrader will present the plan to the University of Missouri System Board of Curators during the board's meeting on Friday, April 11, at the Havener Center on the Missouri S&T campus.
Driven by S&T's strategic planning process of the past 18 months, the master plan identifies several potential changes to the university's physical footprint.
"Our overall goal in this master planning process is to improve upon our welcoming, service-oriented atmosphere for visitors while also positioning Missouri S&T to take an even greater leadership role as a research university," says Schrader. "This plan also provides innovative approaches to addressing needed improvements to our academic, research and student support facilities to ensure we provide the best environment for success among our students, faculty and staff."
The master planning process included surveys of students, faculty, staff and alumni, as well as forums with campus and community representatives, and an in-depth study of how space is used campuswide – from classrooms and laboratories to assembly and exhibit space, student recreation and meeting space, storage facilities and offices. The space utilization study was based on the university's projected student, faculty and staff population for 2020.
Based on the survey results, forum input and space utilization study findings, and directed by the goals of Missouri S&T's strategic plan, the master plan includes the following proposed campus improvements:
The creation of an arrival district at the intersection of U.S. 63 (Bishop Avenue) and Miner Circle. The arrival district would provide "a strong and welcoming first impression" for visitors to campus, Schrader says, and would include a new interdisciplinary research building to showcase university research; additional event and exhibit space, possibly in a renovated power plant building (which will go offline this summer after the campus geothermal energy project is completed); an expanded Havener Center; and admissions and other offices in a renovated Bureau of Mines Building. The arrival district would also feature the historic Rolla Building, which was the first building on campus when S&T was founded in 1870.
Renovation and expansion of existing academic buildings to modernize labs, classrooms and other facilities. The master plan calls for connecting the Engineering Research Laboratory building with Straumanis-James Hall, which supports Missouri S&T's Materials Research Center. Both buildings house major research efforts, including materials and structural infrastructure research, intelligent systems and advanced manufacturing labs, and are among "the most sought-after research space on campus," Schrader says. The plan also calls for additions to accommodate growth. Examples include Emerson Hall, which houses the electrical and computer engineering department, and Butler-Carlton Civil Engineering Hall, which houses civil, architectural and environmental engineering.
Transformation of Curtis Laws Wilson Library into a "learning commons" that blends digital technology in a more open environment than a traditional library. The learning commons concept is designed to encourage collaboration and teamwork among students, and Schrader points out that with the establishment of a 3-D printing station in the library, S&T is already moving toward the learning commons model. The plaza area outside of the library would also become a central gathering place for campus, with food service and outdoor dining.
Improvements in student living spaces, including three potential areas for future housing developments. One development would be on University Drive, west of the Residential College and where Nagogami Apartments currently are located. A second development would be located at the site of the Quadrangle Residence Halls on 10th Street between State Street and Bishop Avenue, and a third development would involve mixed-use buildings along Pine Street that would include student housing with office and commercial space.
Improvements in athletics and recreation facilities for students, including a new field house, expanded field space and support facilities, and a new golf course. "Our students are very active," Schrader says. "Roughly 60 percent of our students were varsity athletes in high school and a vast majority of them stay active through involvement in student organizations and intramural sports. They should have high-quality fields and facilities that encourage and support their active lifestyle."
Further development of business partnerships and entrepreneurship through an addition of a conference center at Innovation Park on West 10th Street and the creation of a new "innovation campus" along Interstate 44 near Miner Village Apartments and S&T's General Services Building. "Innovation Park continues to be a great success, with the Technology Development Center there housing 12 business enterprises and another four start-ups created by our students," Schrader says. "The addition of our innovation campus would provide space for new business partnerships, and possibly a location for some of our current start-ups to 'graduate' to when they're ready to expand."
Safety improvements along the campus' edge at Bishop Avenue. The master plan calls for a new traffic signal at Bishop Avenue and Miner Circle (the main campus arrival district) as well as two pedestrian bridges – one at Bishop Avenue and 10th Street and one at University Drive. The plan also calls for closing a portion of 11th Street in an effort to create a more pedestrian- and bicycle-friendly campus.
Campus landscape and rainwater management improvements to complement the proposed pedestrian- and bicycle-friendly campus. Rainwater management improvements also provide an opportunity to turn the campus into a "living laboratory" through which visitors can see and experience first-hand aspects of the research and learning that occurs at S&T. "Our rainwater management plan lends itself to new research and educational opportunities in environmental engineering and biological sciences, to name just two programs," Schrader says. "But we envision stations all around campus that will serve as living laboratories for use by our students and researchers, and will engage our campus visitors."
Missouri S&T leaders now plan to set priorities for future campus improvements based on the master plan and guided by the university's strategic plan.
The campus master plan presentation and summary handout will be available online on April 11 at designconstruction.mst.edu/masterplan. In addition, Schrader will host a campus forum on the plan at 10:30 a.m. Monday, May 5, in St. Pat's A and B of the Havener Center.