Broadway actress to perform at Leach Theatre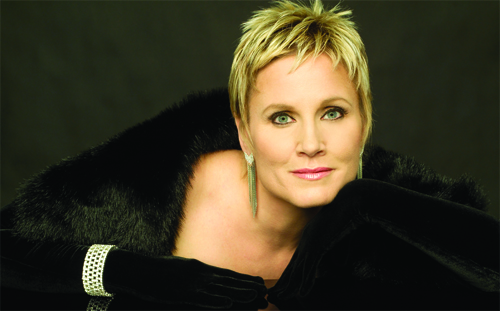 Broadway actress Jeri Sager will perform at Missouri University of Science and Technology this April. It is the final performance in the 2013-14 Missouri S&T Campus Performing Arts Series.
Sager will perform her one-woman show, "Broadway by Jeri," which includes an array of hit songs.  The performance will be held at 7:30 p.m. Thursday, April 17, in Leach Theatre of Castleman Hall, located at the corner of 10th and Main streets in Rolla.
Tickets are $35 for adults and $25 for youth age 18 and younger. Tickets are available to Missouri S&T students with a valid ID for $10. However, the first 75 S&T students will receive a free ticket. Tickets can be purchased 9 a.m. to 4 p.m. Monday through Friday from the Leach Theatre Box Office, located in the vestibule inside the main entrance to Leach Theatre, facing 10th Street. Tickets can also be purchased online at leachtheatre.mst.edu/cpas/cpas13-14/broadwaybyjeri.
Sager is well-known for her role as Grizabella in the Tony Award-winning musical "Cats." Her portrayals of Fantine in "Les Miserables" and Frumah-Sara in the 25th Anniversary production of "Fiddler on the Roof," have earned her critical acclaim.
Sager's performance is sponsored in part by Missouri S&T public radio station KMST. For more information about the April 17 performance, or to purchase tickets, contact the Missouri S&T Leach Theatre Box Office at 573-341-4219. More information about the Missouri S&T Campus Performing Arts Series is available online at leachtheatre.mst.edu/cpas.