Chicago's escape from public health crisis via canal creation subject of lecture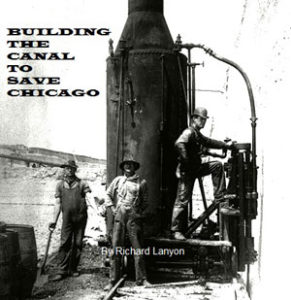 The author of a book detailing how the city of Chicago reversed the flow of its river and created a navigable canal to avoid a public health crisis will speak at Missouri University of Science and Technology on March 20.
Richard Lanyon, retired executive director of the Metropolitan Water Reclamation District and author of Building the Canal to Save Chicago, will lecture at 5 p.m. Thursday, March 20, in Room 125 Butler-Carlton Civil Engineering Hall. The event is free and open to the public. A book signing will follow the presentation.
As the fastest-growing city in the United States in the late 1800s, Chicago's location had one big disadvantage — poor drainage. Cholera and typhoid were rampant and Chicago had one of the highest mortality rates among major cities.
"The Chicago River was a public nuisance, polluted and smelly, and discharged to the city's water source, Lake Michigan," says Lanyon. "The building of a canal to reverse the flow of the river solved these problems and allowed the city to continue to grow, the mortality rate plummeted and the river became enjoyable."
Lanyon has a lifelong association with the waterways in and around Chicago. He grew up along the North Branch, and attended Lane Technical High School and the University of Illinois Navy Pier campus. After graduate school, he worked as an entry-level engineer on the Lake Diversion legal controversy and finished his 48-year career with the Metropolitan Water Reclamation District, where he oversaw day-to-day operations for stormwater management, wastewater recovery and related services to protect the environment for the city's 5 million people.
Lanyon's visit is co-sponsored by the Missouri S&T Environmental Research Center and the geological sciences and engineering department.