Professor's book on aluminum recycling and recovery published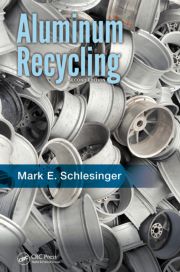 A book about aluminum recycling and recovery by Dr. Mark E. Schlesinger, professor of metallurgical engineering at Missouri University of Science and Technology, was recently published by CRC Press.
Aluminum Recycling (2nd Ed.) was published in December 2013. The new edition contains updated and expanded information on the topic. Schlesinger's first edition was published in 2006.
In the monograph, Schlesinger discusses the economic as well as technical aspects of aluminum recycling and recovery. The text includes a discussion of the scrap aluminum marketplace, the design and operation of furnaces for melting scrap aluminum, the refining of molten aluminum, and the recovery and processing of dross from re-melting operations.
According to CRC Press, the second edition features more information on the economics or recycling and the analysis of dross processing methods currently in use by the industry.
In addition to metals recycling, Schlesinger's research interests include high-temperature thermochemistry, pyrometallurgical and intermetallic systems, glass ceramics, thermal analysis and extractive metallurgy. He has been a member of the Missouri S&T faculty since 1990.
Looking for something?
CASE Department News
CEC Department News
Kummer College Department News