13 important research stories of 2013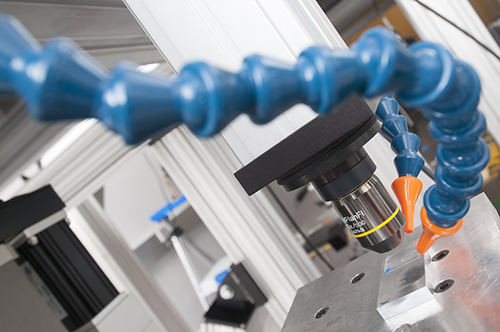 Robotic brains. Glass that can heal bones. A urine test to detect breast cancer. New insights into how Internet use could indicate depression. These were among the most notable advances in research made by Missouri S&T professors and their students in 2013. Here are 13 that were publicized during the year, but are well worth talking about again.
Bone-healing glass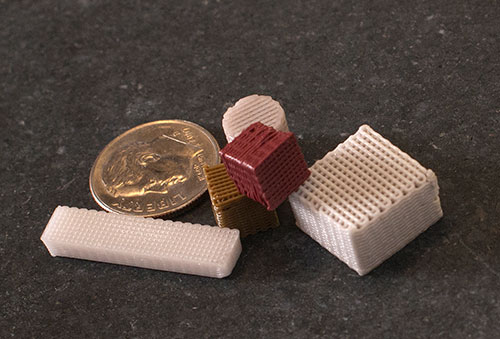 Researchers in S&T's Center for Biomedical Science and Engineering developed a glass implant that could one day be used to repair arms, legs and other weight-bearing bones. The bioactive glass like the examples shown here forms a type of scaffolding that integrates with the bone and promotes growth.
Brainier 'bots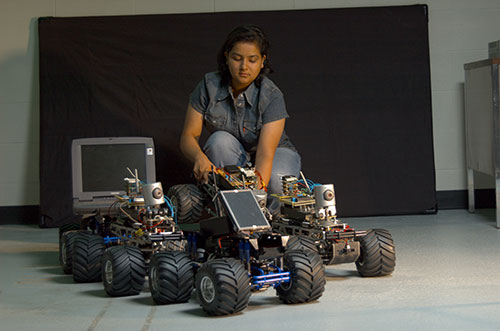 In the future, groups of semi-autonomous robots may take over dangerous tasks currently handled by humans, such as decommissioning a land mine or rescuing victims of a building collapse. These robotic groups will have leaders and followers, and if a lead robot is damaged, another one can take over, thanks to a new feedback system developed Dr. Jagannathan Sarangapani, the William A. Rutledge-Emerson Electric Co. Distinguished Professor in Electrical Engineering.
A urine test for breast cancer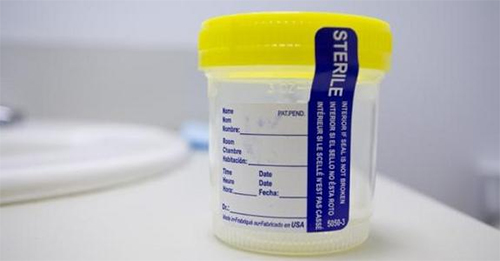 A urine test developed by Dr. Yinfa Ma, Curators' Teaching Professor of chemistry, may be able to detect breast cancer sooner than a mammogram. Ma's P-Scan test is being used in clinical trials at Mercy Breast Center in Springfield, Mo.
Light-warping nanomaterials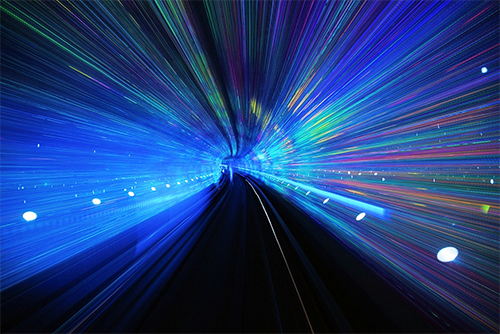 Mechanical engineering researchers Dr. Jie Gao and Dr. Xiaodong Yang have designed a nanomaterial that funnels light through some very tight spots at the atomic scale. In the process, they discovered that their specially designed "meta-atom" of gold and silicon oxide can transmit light through a wide bandwidth and at a speed approaching infinity. In other words, faster than the speed of light.
The Internet-depression connection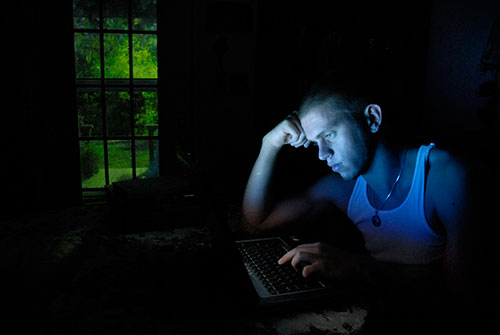 In another groundbreaking study drawing on Internet usage data collected anonymously, computer science researcher Dr. Sriram Chellappan and colleagues at Duke University see correlations between certain types of Internet use – such as gaming, online chat and downloading files – and addictive behavior. This latest research was presented Dec. 18 at the IEEE International Conference on Advanced Networks and Telecommunications Systems. A year ago, Chellappan reported in IEEE Technology and Society Magazine that students who exhibit signs of depression use the Internet differently than those who don't show signs of depression.
Getting the continental rift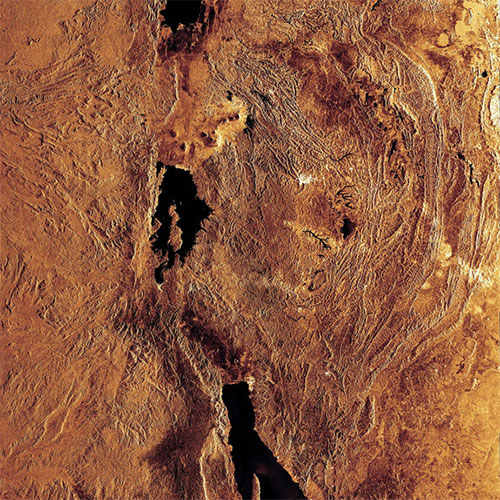 A giant rift in Eastern Africa – formed when Arabia and Africa began pulling away from each other some 26 million years ago – is the subject of ongoing studies by Dr. Stephen Gao, a professor of geology and geophysics at Missouri S&T. In the American Geophysical Union's newspaper EOS, Gao and his colleagues describe how their geodynamic modeling suggests that below mature rifts, a region called the asthenosphere is upwelling.
A secret ingredient for high-strength bridges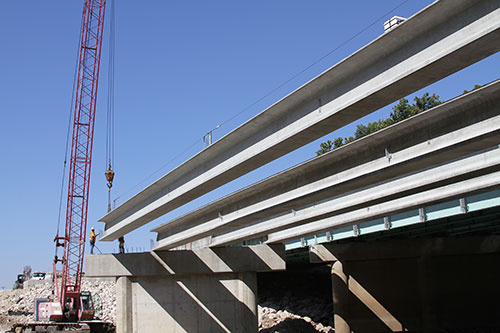 In the fall, a new bridge opened east of Jefferson City that incorporates an unusual, high-strength concrete mix in its girders and support structure. The secret ingredient is the result of research led by Dr. John J. Myers, professor of civil, architectural and environmental engineering, and his colleagues at S&T's National University Transportation Center.
Send in the drones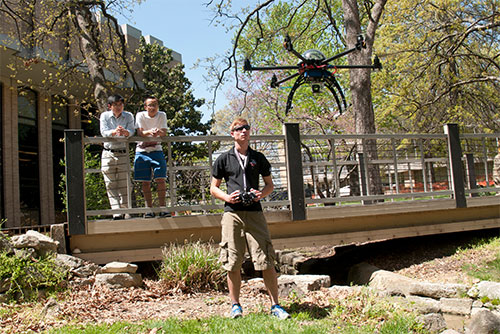 Drones have gotten a bad rap. But a certain type of drone may lead to safer roads and bridges. This "multicopter" was developed by Dr. Zhaozheng Yin, assistant professor of computer science. The radio-controlled, multi-propellered mini-helicopter is loaded with cameras, sensors and other technology designed to monitor and gather data about bridges.
Manufacturing in 3-D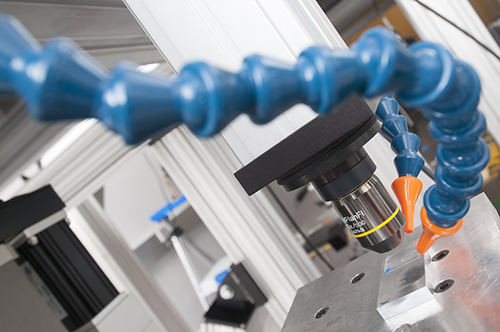 3-D printing is poised to revolutionize manufacturing, and S&T's Dr. Frank Liou is ready. Liou, director of the university's Laser Aided Manufacturing Process Laboratory, has developed additive manufacturing processes to fabricate metal parts using high-powered lasers that melt small particles of powdered materials to create three-dimensional materials, layer by layer.
Insights into online trading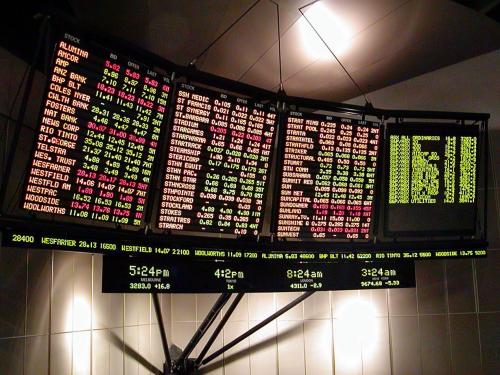 Here's an investment tip for 2014: Consider how your investment news is delivered before you decide to buy, sell or trade. An eye-tracking study by Drs. Hong Sheng and Nick Lockwood of Missouri S&T's business and information technology department found that people who get their financial news by video are less likely to make major investment decisions than those who receive the news via text format. (Are you listening, Jim Cramer?)
Modeling future reactors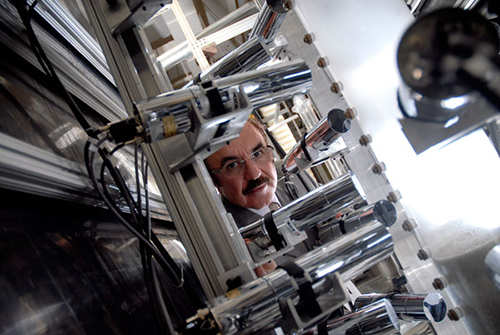 More than 50 years after S&T became home to Missouri's first nuclear reactor, researchers are developing ways to track and measure the movement of radioisotopes for the next generation of reactors. This research should help Missouri S&T as it moves forward leading a new consortium to conduct research on small modular reactors.
After disaster strikes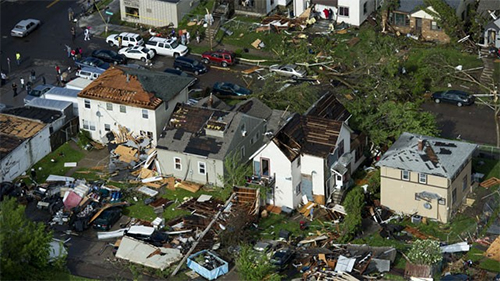 Just two short years after a major tornado destroyed much of Joplin, Mo., former Joplin resident Dr. Suzanna Long developed a process to help communities recover from major natural disasters. Long, a professor of engineering management and systems engineering at Missouri S&T, worked with colleagues at the U.S. Geological Survey and the University of Puerto Rico at Mayaguez on the project.
The village grid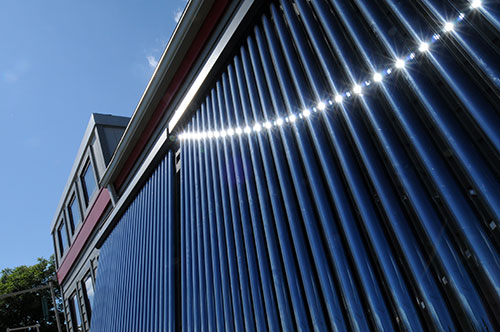 The greenest village in the country is about to get even greener. The four solar-powered homes of Missouri S&T's Solar Village – homes designed and built for the U.S. Energy Department's Solar Decathlon competition – are now involved in a major microgrid study. The four homes will soon be connected to an experimental microgrid to manage and store renewable energy. Led by Dr. Mehdi Ferdowsi, associate professor of electrical and computer engineering, the project will demonstrate the feasibility of small-scale microgrids for future use.