Forsee recognized for service to UM System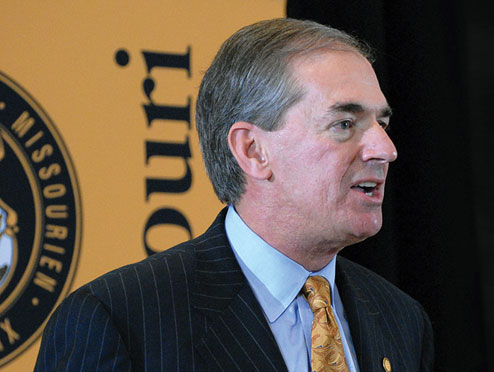 Each year, the University of Missouri Alliance of Alumni Associations and Extension awards the Presidential Citation Award for Outstanding Service to the University of Missouri and its four campuses. The alliance selects one person from each campus and Extension, and the University of Missouri president selects recipients on behalf of the system.

Forsee was recognized at the annual Alliance Awards Dinner in Columbia, Mo., on Nov. 15.

Forsee earned a bachelor of science degree in civil engineering from Missouri S&T in 1972 and was awarded a professional degree in 2000.

Active in volunteer leadership positions for his alma mater, Forsee served Missouri S&T as both president of the Board of Trustees and chair of the Advancing Excellence campaign. He is a member of the Order of the Golden Shillelagh donor society and is an Honorary Knight of St. Patrick. Forsee was instrumental in the name change from University of Missouri–Rolla to Missouri S&T in 2008. In 2011, he was honored as one of Missouri S&T's 28 Alumni of Influence.

Forsee served the University of Missouri as president from 2008 to 2011, focusing on making college affordable for all students and increasing the UM System's concentration in science, technology, engineering and math (STEM). Prior to joining the UM System, Forsee served as chair and chief executive officer of Sprint from 2003 to 2007.

Gary Forsee, former president of the University of Missouri System and a graduate of Missouri University of Science and Technology, is one of eight Missourians honored for outstanding service to the University of Missouri.