S&T researchers create model for managing urban restoration after a natural disaster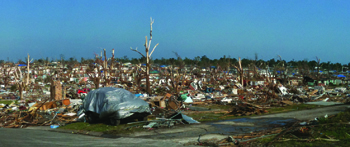 Helping a community recover quickly after a major disaster is the goal of a new project by researchers at Missouri University of Science and Technology.
Working with the U.S. Geological Survey and the University of Puerto Rico at Mayaguez, a team of Missouri S&T researchers is developing a model that can help city planners return their community to its pre-event state in the aftermath of a large-scale disaster. It's one of the first models to consider critical infrastructure elements, geospatial data, hazard damage and restoration rate in a comprehensive recovery approach.
"Most restoration plans deal with the short-term recovery, the search-and-rescue phase," explains Dr. Suzanna Long, professor of engineering management and systems engineering at S&T. "People are in the moment. They're facing an overwhelming task. A lot of decisions have to be made on instinct or expediency.  We're saying they should trust those instincts, but it's our hope our model will add a layer of comfort in that decision process."
To construct the model, the research team began by gathering water, sewer line, transportation, communication and electricity data for Overland Park, Kan., a region that experiences tornadic activity at a rate that's 4.1 times the national average.
"We could have done it anywhere," she says. "But that area also is nationally connected, with both industrial and transportation logistics."
The team worked with Dr. Tom Shoberg, research geographer in the Center of Excellence for Geospatial Information Science at the USGS, to compile detailed imagery of roads, bridges, electric lines and poles, and cell phone towers in the area.
To get a solid understanding of a tornado's damage, the team called on the National Climate Data Center and the National Oceanic and Atmospheric Administration for insight into the average width, direction and path of an EF-5 tornado, along with the average size of the devastation and collateral damage zones.
The research is personal to Long, whose high school-aged daughter was born in Joplin, Mo., a community where Long also worked at Missouri Southern State University. When news broke that an EF-5 tornado had torn through Joplin in May 2011, Long was sitting on a plane in Dallas, Texas. She overhead the airline attendants say Joplin had been destroyed.
"It brought to mind things that had not worked well with Katrina, and I worried about that same type of misery impacting former friends and neighbors," Long says. "I thought, 'there has to be a better way.' During the emergency response, the feelings are about survival. During the recovery, those feelings quickly change to frustration with available resources."
The model also integrates information about collaboration among the local, state and federal agencies, the availability of raw materials, and number of skilled workers needed to get the community back on its feet.
"Some things will never be rebuilt, never come back," she says. "Some may never come back because the resources weren't available at the right time. We want the rebuild or not-to-rebuild decision to be based on considerations other than available resources. A better understanding of resource allocation logistics may help cities return to more quickly after the search-and-rescue phase has ended."
Also working alongside Long on the research, which is funded in part by USGS, are Dr. Steven Corns, assistant professor of engineering management and systems engineering at S&T, and Dr. Hector Carlo, associate professor of industrial engineering at the University of Puerto Rico at Mayaguez. Two S&T Ph.D. students, Varun Ramachandran and Liz Perez, are also working on the project.
For the next phase, the team plans to model the impact an 8 or 9 magnitude earthquake along the New Madrid fault of the St. Louis metropolitan area.