Rolla's cultural celebration to feature mariachi band this year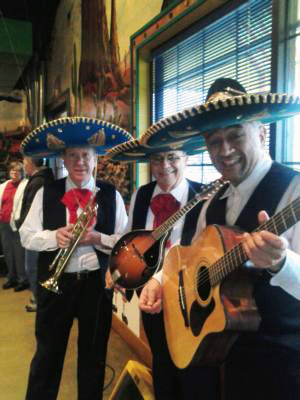 Preparations are under way for Rolla's fourth annual Celebration of Nations, which will be held on Saturday, Sept. 28. The popular multicultural event will feature the lively sounds of Kansas City's mariachi band The 3 Amigos and plenty of other music and other free entertainment. Five-dollar camel rides will also be available and cameras are welcome.
The Parade of Nations will begin at 11 a.m. from the center of the Missouri University of Science and Technology campus. This year the route will go south on Rolla Street to 6th Street, east to Pine Street, north to 9th Street, then east to the Rolla Band Shell. The parade features international floats, marching bands, animals and colorful flags representing the more than 80 countries of origin of area residents and Missouri S&T students. Groups or businesses interested in having a float in the parade or partnering with a student group are encouraged to email nations@mst.edu for more information.
Looking for a unique holiday gift? The festival that follows the parade will include international arts and crafts and delicious food from all over the world and right here in the Ozarks.
While you check out the authentic cultural displays, children can get their "passports" stamped by the countries' representatives. Passports are being distributed at area schools and will be available at the festival's "passport booth," one passport per child. In additional to camel rides, children's activities include inflatables, face-painting, games and more.
Spectators are encouraged to bring lawn chairs or blankets to watch the free performances at the band shell that typically begin at 12:15 p.m. and run until the festival ends at 4 p.m. The popular "International Idol" talent competition will begin around 1 p.m. The competition is open to all family friendly acts; email nations@mst.edu for more information on how to enter.
Volunteers are also needed for the event. Sign up online.
Celebration of Nations was created in 2010 as an opportunity for area residents and Missouri S&T students to share their heritage and celebrate the cultural diversity that exists in the area. It continues to grow every year due to outstanding participation from the community, sponsors and the city of Rolla.
For additional information, check out Celebration of Nations online and keep up-to-date with the latest about the event by "liking" it on Facebook.