Longtime Miner coach Dewey Allgood passed away April 23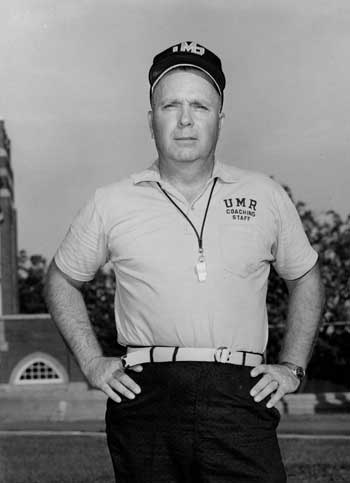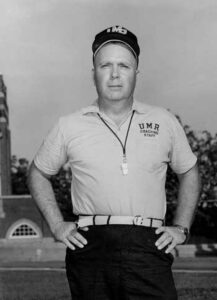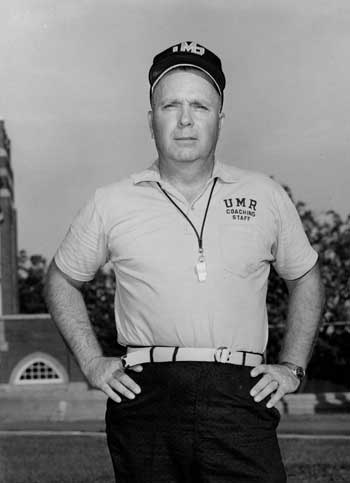 Dewey Allgood, who served as a coach and administrator in Missouri S&T's athletics department for 40 years and was a member of the university's Athletic Hall of Fame, died Tuesday, April 23, at the age of 91.
A memorial service for Allgood will be held at 10 a.m. Saturday, May 4, at Christ Episcopal Church, 1000 N. Main St. in Rolla. In lieu of flowers, memorial contributions are suggested to the Dewey Allgood Athletic Scholarship at Missouri S&T.
Allgood joined the university's coaching staff as head basketball and assistant football coach in 1950. He served as the head basketball coach until 1964, when he was tapped to replace longtime Miner head football coach Gale Bullman. Allgood was head coach of the Miners' 1969 Hall of Fame team that had a 7-2 record and the team's best mark in more than a decade. He led the team through the 1971 season.
Allgood also served as head coach of the university's golf, cross country and track and field programs, leading numerous student-athletes to national meets and coaching six to All-America honors. Under his leadership, the Miners' 1985 cross country team finished third at the Missouri Intercollegiate Athletic Association championships and fifth at the NCAA regional meet.
Allgood's greatest contribution, as noted in a program from his retirement celebration, was his "personal concern and care for the many athletes he has coached. He has truly made a difference in their lives." He built tremendous relationships with the student-athletes he coached during his tenure as well as in the years following his retirement.
In addition to coaching, Allgood served as the director of intramurals at Missouri S&T, assistant director of athletics and chair of the physical education department. Allgood was also the advisor to M-Club, a service organization for student-athletes, and received the M-Club's "Coach of the Year" award in 1990, the year he retired from the university.
Missouri S&T honored Allgood with an outstanding teaching award in 1987 and the NCAA Division II Cross Country Association presented him with its Distinguished Service Award in 1988. He was inducted into the Miner Athletic Hall of Fame in 1996 and into the Academy of Miner Athletics in its class of 2012.
In 2000, Missouri S&T's football and track and field facility, Jackling Field, was renamed Allgood-Bailey Stadium to honor Allgood, who coached Keith Bailey, a 1964 mechanical engineering graduate who was the lead benefactor in the renovation of the stadium. The project included the addition of lights and an all-weather track that is the site of the Dewey Allgood Invitational held annually in mid-April.
Allgood was a member of Christ Episcopal Church and was involved in numerous community service activities in Rolla, as well as serving as a radio commentator for local sporting events. He organized the athletic booster club at the university.
Allgood served in the U.S. Navy aboard the USS Beatty during World War II. A graduate of North Dakota State University, where he played football, basketball and baseball, he coached at Northwest Missouri State University before coming to Rolla in 1950.
To contribute to the Dewey Allgood Athletic Scholarship at Missouri S&T, visit givingtomst.missouri.edu and choose "other" in the drop-down menu, then specify the scholarship name in the comment section. Mail checks to the university advancement records office in Room 112 Campus Support Facility, 1201 State St., Rolla, MO 65409. Please note the scholarship name in the memo portion of the check.