Preservation Hall Jazz Band to bring 'Creole Christmas' Dec. 7
The Preservation Hall Jazz Band will bring its "Creole Christmas" performance to Missouri University of Science and Technology as part of its Campus Performing Arts Series. The performance will be held at 7:30 p.m. Friday, Dec. 7, in Leach Theatre of Castleman Hall, 10th and Main streets on the S&T campus.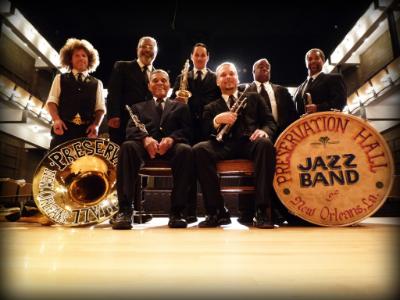 Named after the Preservation Hall in New Orleans, the Preservation Hall Jazz Band features multi-generational musicians who have studied with previous members of the band. The band works to sustain the authenticity of Dixieland music, which features trumpets, trombones and clarinets, among other instruments.
The band will perform "Creole Christmas," featuring a gumbo of New Orleans' holiday classics with a mix of blues, jazz and ragtime. Selections will include "Swinging in a Winter Wonderland," "I'm Dreaming Of A White Christmas," "Bells Will Be Ringin'," and other favorites from the band's most requested repertoire.
Tickets are $35 for adults and $25 for youth 18 years and younger. The first 75 tickets for Missouri S&T students with student ID are free; additional S&T student tickets are $10.
If tickets are available, Leach Theatre will offer discounted admission through its "Back Row Club" one hour prior to the event. The seats in the last row of the theater will be sold for $10 each prior to the performance.
Tickets may be purchased online at leachtheatre.mst.edu or from the Leach Theatre Box Office, located in the vestibule inside the main entrance to Leach Theatre, facing 10th Street. Box office hours are 9 a.m. to 4 p.m. Monday through Friday.
The performance of the Preservation Hall Jazz Band is sponsored in part by Forum Dental and Loren and Glenda Ross. Additional funding for the Missouri S&T Campus Performing Arts Series is provided by the Missouri S&T Endowment for the Performing Arts.
Leach Theatre is a division of Missouri S&T's student affairs department. For more information about the series, call the Leach Theatre Box Office at 573-341-4219.