S&T's Eversman named AIAA fellow
Walt Eversman, Curators' Professor of mechanical and aerospace engineering at Missouri University of Science and Technology, was named a fellow of the American Institute of Aeronautics and Astronautics (AIAA) during a ceremony in Washington, D.C., on May 11.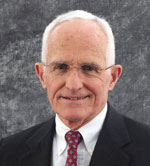 The distinction of fellow is conferred upon members of the institute who have made notable and valuable contributions to the arts, sciences, or technology of aeronautics or astronautics.
In 2008, Eversman received the institute's Aeroacoustics Award for his outstanding contributions to the field of aircraft community noise reduction. He has made fundamental and timely contributions that have enhanced understanding of aircraft turbofan engine noise generation and propagation. His work is widely recognized and used for noise control by major aircraft engine companies. Among his accomplishments is the development of the Eversman Code, which has become an industry standard design tool for turbofan and tonal radiation.
Eversman earned a bachelor of science degree in aeronautical engineering from Purdue University in 1959. In 1961, he earned a master's degree in engineering mechanics from Stanford, and he received his Ph.D. in Aeronautics and Astronautics from Stanford in 1964. He is a registered professional engineer in Missouri.
Eversman's industrial experience includes working in orbital and flight mechanics with Lockheed Missiles and Space, aircraft noise and structural dynamics and flutter with The Boeing Co. In Wichita and Seattle, and induction system noise with GM/AC/Delphi.
He has been an active member of the aeronautics community, serving as general chair for the eighth AIAA Aeronautics Conference, former chair and vice chair of the AIAA Aeroacoustics Technical Committee and former chair of the American Society of Mechanical Engineers (ASME) Noise Control and Acoustics Technical Committee.