River North Chicago Dance to perform in Rolla
River North Chicago Dance Company will bring its exhilarating style to two performances in Leach Theatre of Castleman Hall, 10th and Main streets in Rolla. The performances are part of Missouri University of Science and Technology's 2010-11 Campus Performing Arts Series and its School Outreach Program.

The public is invited to the 7:30 p.m. show on Friday, March 18. Tickets are $35 for adults and $25 for students and youth. The first 75 tickets for Missouri S&T students are free.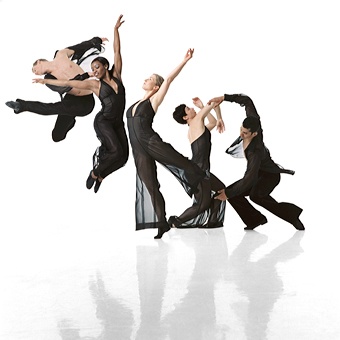 Tickets are available online or from the Leach Theatre Box Office. Box office hours are 9 a.m. to 4 p.m. Monday through Friday. Call 573-341-4219 for more information.
The dance company will also perform a special 10 a.m. show on Thursday, March 17, titled "Street Beat – Dance through the Decades." The performance is geared towards students in grades 5-12. Admission is $4. Find out more by contacting Ruth Husted, School Outreach Program coordinator, at 573-341-6365.
River North Chicago brings to the stage daring works that invite audiences of all ages to be energized, delighted and inspired. Known for its eclectic and sensationally performed repertoire that blends contemporary, ballroom, jazz and Broadway dance, the group features works by choreographers Robert Battles, Lauri Stallings and Frank Chaves.
Leach Theatre will offer discounted tickets through its "Back Row Club" one hour prior to Friday's performance, should tickets remain for the 7:30 p.m. show. The seats in the last row of the theater will be sold for $10 each prior to the performance.
River North Chicago's performance is sponsored in part by public radio station KMST and Phelps County Bank. Additional funding for the Missouri S&T Campus Performing Arts Series is provided by the Missouri S&T Endowment for the Performing Arts.
Missouri S&T's School Outreach Program is sponsored by the S&T department of student affairs and CORE (Champions of Rolla Education).
The presentation of River North Chicago is made possible by the MetLife Community Connections Fund of the National Dance Project, a program administered by the New England Foundation for the Arts. Major support for the National Dance Project is also provided by the Doris Duke Charitable Foundation through a program created and implemented by Dance St. Louis, with additional support from the Ford Foundation, the Andrew W. Mellon Foundation and the Boeing Company Charitable Trust.
For more information about performances at Missouri S&T's Leach Theatre, call the Leach Theatre Box Office at 573-341-4219 or go online.