University of Tulsa VP to lead university advancement at S&T
Joan M. Nesbitt, vice president for institutional advancement at the University of Tulsa, has been named vice chancellor for university advancement at Missouri University of Science and Technology. Missouri S&T Chancellor John F. Carney III announced the appointment today (Monday, Feb. 7, 2011).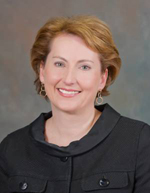 Nesbitt will begin her duties at Missouri S&T on April 11. She replaces Connie Eggert, who left the university last October to become director of philanthropy for the Nature Conservancy in Arizona.
"I'm very pleased to have Joan join our leadership team to direct our advancement efforts," says Carney. "She brings a wealth of experience in fundraising and external relations that will be crucial to Missouri S&T as we build on our past success and, moving forward, strengthen our connections with alumni, our corporate partners and other supporters."
Nesbitt says she has long known of Missouri S&T through the impressive achievements of its alumni, particularly those in the Tulsa area. "It has always seemed to me that Missouri S&T is a very special place based on those I know who hold it so dear," she says. "My interactions with university staff, alumni and volunteers over the last few weeks confirmed that it is an exceptional place to work, learn and live. I'm thrilled to be joining such an accomplished university team, and my family and I couldn't be happier about establishing our home in such a warm and welcoming community."
As vice chancellor for university advancement, Nesbitt will lead the university's fundraising, donor relations and alumni relations efforts. She will oversee the office of development, annual giving operations, the Miner Alumni Association and KMST, the university's public radio station.
Nesbitt has worked in university advancement for 22 years, holding a variety of positions at both public and private institutions. She joined the University of Tulsa in 1997 as director of annual giving. She later became director of major gifts, then assistant vice president for development. She was named vice president for institutional advancement in 2005. In 2009, she served a six-month assignment as chief administrative officer of Gilcrease Museum, which the University of Tulsa operates under a management agreement with the city of Tulsa.
During her 14 years with The University of Tulsa, the alumni giving rate has tripled, from less than 8 percent to 25 percent. She has been a part of two successful fundraising campaigns at TU, the "New Century" campaign, which exceeded its $l00 million goal with $l08 million raised, and the "Embrace the Future" campaign, which will conclude in June and has already exceeded its $400 million goal with $480 million raised to date. Nesbitt also led a universitywide team that successfully overhauled TU's website.
Nesbitt holds a bachelor of arts in communication from the University of Tulsa and a master of arts in organizational dynamics from the University of Oklahoma. She has held regional and national leadership positions with the Council for the Advancement and Support of Education (CASE) and is the recipient of three national "Circle of Excellence" awards for achievements in fundraising and public relations. She has also served as a speaker at conferences sponsored by CASE, the National Council for Marketing and Public Relations, and the Oklahoma College Public Relations Association, which she served as president.