Ragamala Dance to bring beauty, grace and Indian culture to Leach stage
The women of Ragamala Dance will bring their unique combination of ancient and modern cultures to Missouri University of Science and Technology this month in a beautifully costumed and vibrant show.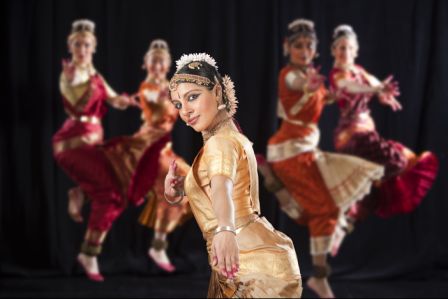 The dancers will perform at 7:30 p.m. Friday, Sept. 17, in Leach Theatre of Castleman Hall, 10th and Main streets in Rolla. The performance is part of Missouri S&T's 2010-11 Campus Performing Arts Series.
Tickets are $35 for adults and $25 for students and youth. The first 75 tickets for Missouri S&T students are free.
Tickets are available online or from the Leach Theatre Box Office. Box office hours are 9 a.m. to 4 p.m. Monday through Friday. Call 573-341-4219 for more information.
Rooted in Bharatanatyam, a classical dance form from southern Indian, Ragamala blends dance, music and poetry. Dance Magazine says the women of Ragamala can be "fierce or fragile, stately or ebullient, spiritual or erotic … (they) alter the very textures of their bodies from moment to moment (to) thicken, sharpen, attenuate and refine the highly inflected vocabulary of Bharatanatyam."
Leach Theatre will offer discounted tickets through its "Back Row Club" one hour prior to the event, should tickets remain for the show. The seats in the last row of the theater will be sold for $10 each prior to the performance.
Funding for the Missouri S&T Campus Performing Arts Series is provided by the Missouri S&T Endowment for the Performing Arts.
For more information about the Missouri S&T Campus Performing Arts Series, call the Leach Theatre Box Office at 573-341-4219 or go online.