Ohio environmental expert named Mathes Chair at S&T
Dr. Daniel B. Oerther, director of the Ohio Center of Excellence in Sustaining the Urban Environment and professor of environmental engineering at the University of Cincinnati, has been named the John A. and Susan Mathes Chair of Civil Engineering at Missouri University of Science and Technology. He will join the S&T faculty on July 1.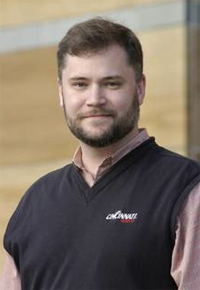 "When the National Academy of Engineering developed its list of Grand Challenges for Engineering, providing access to clean water was near the top of the list," says Dr. Warren K. Wray, Missouri S&T Provost. "Dr. Oerther's combined background in biological sciences and environmental engineering puts him in a unique position to help address that challenge. We're both pleased and honored to count him as part of the Missouri S&T faculty."
Oerther is considered an interdisciplinary researcher, combining biotechnology with environmental engineering to form environmental biotechnology. His research integrates concepts from ecological theory, engineering modeling processes and molecular biology to assess the metabolic activity of various microbial populations.
Oerther also focuses his research on sustainable development, finding cost-effective and culturally appropriate solutions for water management in emerging and less-developed countries.
A former National Science Foundation CAREER Award recipient, Oerther has written more than 50 journal papers, five book chapters, 75 invited talks and 200 conference proceedings. He has earned a Fullbright Fellowship and received the 2007 President's Excellence Award from the University of Cincinnati. In 2007, he was elected an inaugural member of the Academy of Fellows of Teaching and Learning at UC.
Oerther earned his Ph.D. and master of science degrees in environmental engineering from the University of Illinois in 2002 and 1998, respectively. He also holds a bachelor of science degree in environmental engineering and a bachelor of arts in biological sciences, both from Northwestern University.
Oerther began teaching at the University of Cincinnati as an assistant professor in 2000. In 2003, he was also named an adjunct faculty member in the university's biological sciences department. He was named associate professor of environmental engineering in 2005 and became a full professor in 2008. He has served as a visiting scholar at the Max Planck Institute of Marine Microbiology and the Marine Biology Laboratory at Woods Hole Oceanographic Institute and a visiting lecturer at the Indian Institute of Science in India. He also served as Pai Scholar and adjunct professor at Kasturba Medical College in India.
The Mathes Chair was established through two gifts from Missouri S&T graduate John A. Mathes and his wife, Susan along with support from the Missouri Endowed Faculty Program. This matching program was funded by the Missouri Legislature to attract world-class faculty to the four campuses of the University of Missouri. The position was originally established as a professorship in 1995. The couple elevated the position to a chair in 2006.
The first holder of the Mathes Chair was Dr. Craig Adams, who is now the J.L. Constant Distinguished Professor of Civil, Environmental and Architectural Engineering at the University of Kansas.
"In 1995, Susan's and my goal was to help create an environmental engineering program where there was none," says Mathes. "By 2006, we were so pleased with the quality of the program Dr. Adams and his colleagues had created, we decided to increase our investment and further enhance the program by creating the Mathes Chair.
"We are extremely pleased to have attracted an individual of Dr. Oerther's caliber to succeed Dr. Adams," Mathes adds. "We believe Dr. Oerther's leadership ability coupled with his unique focus on environmental biotechnology, interdisciplinary research, and sustainable development will enhance an already good environmental program, energize the university's interdisciplinary environmental research enterprise and help solve some of the most vexing environmental problems facing the developed and less-developed world."
Mathes, founder of Illinois-based environmental engineering firm John Mathes and Associates Inc., earned bachelor of science and master of science degrees in civil engineering from Missouri S&T in 1967 and 1968, respectively. In 1988, Mathes' operations were acquired by Burlington Environmental Inc. of Seattle.