Missouri S&T awards Garms Honorary Doctorate Degree
Irvin H. Garms of Cape Girardeau, Mo., was awarded the degree of Doctor of Engineering, Honoris Causa, during the commencement ceremonies of Missouri University of Science and Technology on Saturday, Dec. 19, in Rolla, Mo. Approximately 600 degrees were awarded to graduating students and approximately 4,000 guests were in attendance.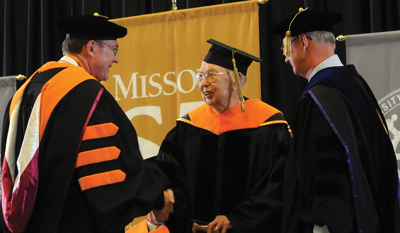 "Irvin Garms is an outstanding example of how far hard work, dedication and savvy can take you in this world," said Missouri S&T Chancellor John F. Carney III. "By bestowing the highest honor of our university on him during this commencement, we hope that he will serve as an inspiration to our students and graduates."
Garms, age 94, grew up in rural Missouri and graduated from a one-room high school less than 20 miles from Rolla. In the midst of the Great Depression, he left his family's farm to take a job on a nearby road-building project. He was a water boy and helped care for the mules used to pull the grading equipment.
Garms rose to lead multiple construction ventures and serve as a board director of more than a dozen domestic and international corporations. Doing business on five continents, Garms directed some of the largest and most difficult earthmoving, pipeline, and marine projects of the 20th century.
Missouri University of Science and Technology (Missouri S&T) is one of the four campuses of the University of Missouri. It offers undergraduate and graduate degrees in the liberal arts and non-science areas as well as in a full range of engineering and science fields.
In 2008, the name of the campus was changed from the University of Missouri-Rolla to reflect its unique nature as of one of the top technological research universities in the United States. The Rolla campus' extensive research equipment and facilities include an underground test mine and a nuclear reactor.