Drowne is S&T's Woman of the Year
Dr. Kate Drowne, associate professor of English and technical communication at Missouri University of Science and Technology, has been named 2009 Woman of the Year by Missouri S&T. Drowne, who is also a student advisor and director of the university's Writing Center, was honored during a campus ceremony on Monday, April 20.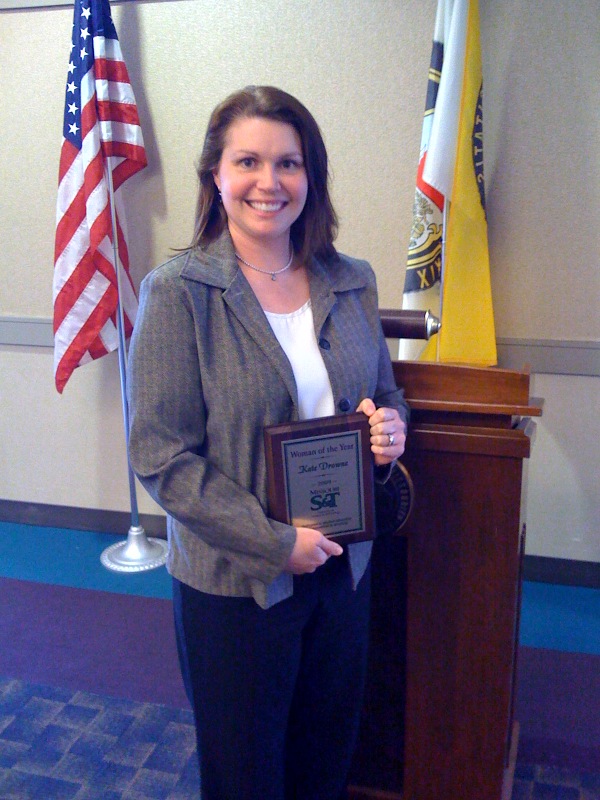 The Woman of the Year award is given annually in recognition of efforts to improve the campus environment for women and minorities. As part of the award, Drowne received a $2,000 stipend funded by Missouri S&T graduate Cynthia Tang, founder and former chair of Insight Industries Inc.
"Kate is a role model and mentor for female students," says Gene Doty, chair of S&T's English and technical communication department. "She is deeply committed to being an excellent teacher."
Drowne teaches American literature and writing courses. She also teaches in S&T's Hit the Ground Running program, which gives new students an early introduction to college life.
Drowne earned a bachelor's degree in English from Colby College (1992), a master's degree in English from the University of Connecticut (1994) and a Ph.D. in English from the University of North Carolina at Chapel Hill (2000). Before coming to S&T, she was a resident fellow at the W.E.B. Du Bois Institute at Harvard University.
Last year, Drowne was granted a non-residential fellowship at Harvard University through the W.E.B. Du Bois Institute to extend her research on the flapper figure in American literature. The fellowship will give her access to the extensive and exclusive Harvard library, where she hopes to dig up rare sources of 1920s literature.
Soon, Drowne plans to spend several months conducting research at Harvard. She intends to complete her new book, The Flapper in American Literature of the Jazz Age, by the fall of 2010.
Previously, Drowne authored Spirits of Defiance: National Prohibition and Jazz Age Literature and co-authored American Popular Culture through History: the 1920s.