Photography exhibit opens with reception on Tuesday
"Four Photographers," an exhibit sponsored by the S&T Campus Art Committee, will open with a reception from 6-7 p.m. Tuesday, Jan. 27, in the lobby of Leach Theatre of Castleman Hall.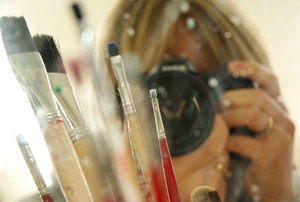 The show features the work of Joan Lincoln Aronstam, Anne Lindgren, Laurie Myers and Lisa Story.
Of her work, Aronstam says, "I have always been intrigued by the intentional and unintentional patterns in both nature and artificial objects." Recently, she has explored portrait photography and intends to do more work in this area.
"I try to channel positive energy to the viewer of my photographs," says Lindgren. She enjoys using dramatic contrast and a slight shift in the focal plane in her work.
Story photographs landscapes during hikes and kayaking adventures with her husband and daughter. "I intend for my photographs to be not only memorabilia for me and my family, but inspiration for others to catch the spirit of exploration and enjoy adventures of their own."
The show will be on display in Castleman Hall until the end of the semester.