Free Spring Film Festival to feature films with visual appeal
This season's Missouri S&T Free Spring 2009 Film Festival will feature acclaimed films that showcase visually appealing cinematography, that is, lighting and camera choices.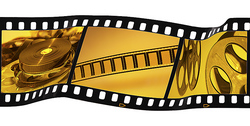 "This spring's festival was put together primarily by Brad Rupert, S&T communications specialist and instructor of the Art 85 course that runs concurrently with the series," says Dr. James J. Bogan Jr., Curators' Teaching Professor of art history and film at Missouri S&T. "Brad will be bringing his photographer's eye to the selections."
Highlights include the blockbuster opener, "Mamma Mia" and the silent Charlie Chaplin classic "Gold Rush," which will be accompanied on piano by Joann Walter. Jeanne Stanley, the new theater professor, will introduce Shakespeare's "Merchant of Venice," starring Al Pacino.
"It looks to be an exciting semester on Tuesday evenings," adds Bogan.
The films are free and open to the public. The movies will be shown at 7 p.m. on Tuesdays in Leach Theatre of Missouri S&T's Castleman Hall, 10th and Main streets in Rolla, Mo., with the exception of "Gonzo" on Feb. 24, and "La Vie En Rose" on March 3, which will be screened in the auditorium of the Physics Building on the Missouri S&T campus.
The Spring 2009 Missouri S&T Free Film Festival includes the following motion pictures:
"Mamma Mia" – Jan. 20
"Vicky Cristina Barcelona" – Jan. 27
"The French Lieutenant's Woman" – Feb. 3
"Before the Devil Knows You are Dead" – Feb. 10
"Gold Rush" – Feb. 17
"Gonzo" – Feb. 24
"La Vie En Rose" – March 3
"The Duchess" – March 17
"Merchant of Venice" – March 31
"The Year of Living Dangerously" – April 7
"Brideshead Revisited" – April 14
"Touch of Evil" – April 28
"All That Jazz" – May 5
The Missouri S&T Film Festival is supported by the Missouri Arts Council and the university's Campus Performing Arts Series; Curtis Laws Wilson Library; Student Union Board; office of the chancellor; civil, architectural and environmental engineering department; and arts, languages and philosophy department.
For more information about the Missouri S&T Free Spring 2009 Film Festival, call 341-4185.