Woodard tells S&T grads to use science and technology to solve problems
Dr. Joan Woodard told approximately 600 graduating students not to let barriers get in the way of future success during commencement at Missouri University of Science and Technology on Dec. 20.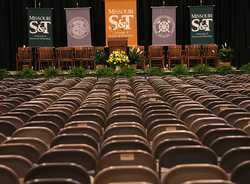 In her commencement address, Woodard said science and technology will solve energy problems, supply solutions for environmental stewardship and provide for the health and well being of people in developing nations around the world.
Woodard is the executive vice president and deputy laboratories director for nuclear deterrent at Sandia National Laboratories. She earned a bachelor's degree in applied mathematics from Missouri S&T in 1973. She earned a master's degree from Stanford University in 1975 and a Ph.D. in mechanical engineering from the University of California-Berkeley in 1982. In 1999, she was awarded a professional degree in mathematics by Missouri S&T.
"At Missouri S&T, you have been learning to solve problems," Woodard told the graduating students. "You have received one of the best educations in the country for practical problem solving…You have endured endless hours of writing, calculating, experimenting, building, testing and rebuilding. You have finished the courses and made the grades."
Woodard challenged the new graduates to "break the strongholds and barriers that hold you back from everything you want to be" and to "drive for innovation in your work."
As part of Saturday's ceremonies, Woodard received an honorary doctorate.
At Sandia, Woodard oversees engineering support and design to the nation's nuclear weapons stockpile; she is responsible for research, development and testing services for customers; and she's in charge of the manufacture of specialized non-nuclear products and components for national defense and security applications.
Woodard joined Sandia in 1974. She has held positions as the director of the environmental programs center, director of the product realization-weapon components center, vice president and manager of the energy and environment division, vice president of the energy information and infrastructure technologies division, and executive vice president and deputy director responsible for Sandia's programs, operations, staff and facilities.
At Missouri S&T, Woodard has served on the Dean's Board of Visitors for Arts and Sciences, the Dean's Advisory Council for the School of Engineering, and the Campaign Organizing Committee. She has also served on the Engineering Advisory Board and the Board of Trustees. Woodard received an Alumni Achievement Award in 1997 and the Robert V. Wolf Alumni Service Award in 2007. Woodard and her husband are both members of S&T's Order of the Golden Shillelagh donor society.
Woodard has served on the Air Force Scientific Advisory Board, the National Academy of Sciences' Study on Science and Technology for Countering Terrorism, and the Secretary of Energy's Nuclear Energy Research Advisory Council. She received the Spirit of Achievement Award from the National Jewish Hospital and was named "one of 20 women to watch in the new millennium" by the Albuquerque Journal.