Original 'Grinch' to be shown at S&T
The Family Film Series at Missouri S&T will offer a screening of the classic Warner Brothers animated cartoon "How the Grinch Stole Christmas" at 11 a.m. Saturday, Dec. 6. The film will be shown in Leach Theatre of Missouri S&T's Castleman Hall, 10th and Main streets in Rolla, Mo.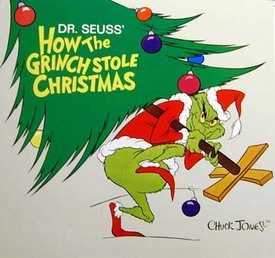 The 1966 cartoon special, based on the children's book of the same name by Dr. Seuss, tells the story of the Grinch, a bitter, cave-dwelling creature with a heart "two sizes too small," who attempts to steal Christmas from the merry and warm-hearted Whos. Boris Karloff narrates and provides the speaking voice of the Grinch, and the film was directed by Chuck Jones.
There will be fun arts and crafts, clowns and face-painting. Lunch and snacks, including pizza and soda, will be sold in the lobby following the film. Admission is $2 per person, and tickets will be available at the Leach Theatre Box Office. For more information, call 341-4219.
Other films in the 2008-09 Family Films Series season include:
"Snow White" (Disney) – Jan. 31, 2009
"The Incredibles" (Disney/Pixar) – Feb. 14, 2009
"Robin Hood" (Disney) – March 21, 2009