'Lost boys of Sudan' to speak at S&T on Wednesday
Three former "lost boys of Sudan" and their American mentor will speak at Missouri S&T at 7 p.m. Wednesday, Oct. 22, in the Student Recreation Center of Gale Bullman Multi-Purpose Building, 705 W. 10th St. in Rolla. The lecture is free and open to the public. Doors open at 6 p.m.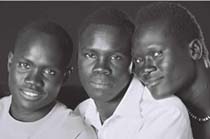 Benson Deng, Alephonsion Deng and Benjamin Ajak, along with Judy Bernstein, authored, "They Poured Fire on Us From the Sky: The True Story of Three Lost Boys of Sudan," published in 2005. They will read from their book, answer questions, sign books and present awards to winners of a S&T student writing contest.
"'They Poured Fire on Us …' is a powerful true story about the tragic civil war in Sudan, as witnessed by three of the tens of thousands of young children who were forced by flee their homes and walk more than 1,000 miles across eastern Africa after their villages were destroyed," says Dr. Kate Drowne, assistant professor of English and technical communication and director of the Missouri S&T Writing Center. "A Washington Post reviewer described the book as 'one of the most riveting stories ever told of African childhoods – and a stirring tale of courage.'"
The book was this year's selection for the university's "One Book" program. Incoming first-year students at S&T were expected to read the book during the summer before they arrived on campus this fall. The book is taught in all sections of English 20, the introductory composition course required of most freshmen. The program aims to improve freshman students' experience during their first year at S&T by giving them something in common to talk about.
In addition to giving all incoming students an intellectual experience in common, the program gives students several opportunities for critical thinking on a topic of social relevance while promoting the value and importance of reading beyond the classroom.
More information about the Missouri S&T One Book program, sponsored by the S&T office of undergraduate studies, is available online at onebook.mst.edu or by email at onebook@mst.edu.