Missouri S&T Family Film Series to present "Cars"
The Family Film Series at Missouri University of Science and Technology will offer a screening of the Disney/Pixar animated film Cars at 11 a.m. Saturday, Sept. 20. The film will be shown in Leach Theatre of Missouri S&T's Castleman Hall, 10th and Main streets in Rolla, Mo.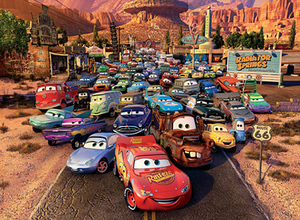 From the acclaimed creators of "Toy Story," "The Incredibles," and "Finding Nemo," comes a high-octane adventure comedy that shows life is about the journey, not the finish line. Hotshot rookie race car Lightning McQueen (voiced by Owen Wilson) is living life in the fast lane until he hits a detour on his way to the most important race of his life. Stranded in Radiator Springs, a forgotten town on old Route 66, he meets a variety of quirky characters who help him discover that there's more to life than trophies and fame.
There will be fun arts
and crafts, clowns and face-painting. Lunch and snacks, including pizza and soda, will be sold in the lobby following the film. Admission is $2 per person, and tickets will be available at the Leach Theatre Box Office. For more information, call 573-341-4219.
Other films in the 2008-09 Family Films Series season include:
Ratatouille (Disney/Pixar) – Nov. 22
How the Grinch Stole Christmas (Warner Brothers, animated) – Dec. 6
Snow White (Disney) – Jan. 31, 2009
The Incredibles (Disney/Pixar) – Feb. 14, 2009
Robin Hood  (Disney) – March 21, 2009