"Mammoth Follies" to be presented Oct. 8 by Leach Family Series
Missouri S&T will present the first performance in the 2008-09 Leach Theatre Family Series, "Mammoth Follies," by Hudson Vagabond Puppets, at 1 p.m. Wednesday, Oct. 8. The event will be held in Leach Theatre of Castleman Hall, 10th and Main streets in Rolla, Mo. All tickets are $3.50 each.

"Mammoth Follies" explores the wonders of evolution in an old-fashioned revue of original songs, witty jokes, and earth-smashing dances performed by giant dinosaur puppets. This program will dramatize historic and scientific facts (as well as some myths) about the great age of the dinosaur.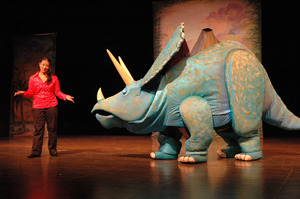 Enormous puppets populate the stage, including host Willie Mammoth, Smiley the Saber-Toothed Tiger, Bessie the 27-foot-long Apatosaurus, Tony and Trixie Triceratops, Terry the Pterodactyl, and the 11-foot-tall T. Rex in a musical trip through pre-history.
Missouri S&T's School Outreach Program is sponsoring two additional performances of the show at 9:30 and 11 a.m. for third- and fourth-grade students. All three performances of "Mammoth Follies" are open to the students. For more information on the Missouri S&T School Outreach Program, contact Wendi King at Leach Theatre, 573-341-6365. Links to study guides can be found on Leach Theatre's website: leachtheatre.mst.edu/school_outreach/2008-2009.html.
The Leach Family Series is presented by the Missouri S&T student affairs department and is supported in part by the Missouri Arts Council, the National Endowment for the Arts and the Mid-America Arts Alliance.
Tickets are available at the Leach Theatre Box Office and may be purchased with a credit card by phone at 573-341-4219. All sales are final; however, tickets may be returned 24 hours prior to a performance for a tax deductible contribution to the theater.
The Leach Family Series offers a $1 discount each for purchases of four or more tickets to any of the four performances.
For more information, call the Leach Theatre Box Office at 573-341-4219.